Evacuation orders, rescues as Sydney hit with torrential rain again
Sydney and large swathes of NSW's coast are enduring another day of downpours.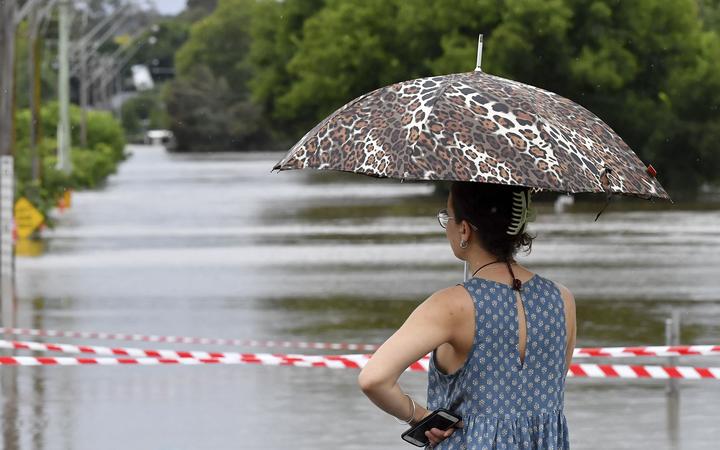 Many residents were unable to reach their homes due to flooded roads and bridges. (File pic) Photo: AFP
Evacuation orders have been issued, and the Harbour City this morning passed its annual average rainfall total less than four months into the year.
Authorities have warned that the deluge that has sparked flash flooding and evacuations in Sydney, and also drenched large swathes of NSW's coast, will continue until this evening.
Bureau of Meteorology (BOM) senior hydrologist Ailsa Schofield said heavy rainfall would persist for the rest of the day across the Hunter, parts of the Central Coast, Greater Sydney, the Illawarra and South Coast.
The most recent evacuation order was issued about 3pm (NSW time) for residents in parts of Camden, in Sydney's south-west.
They have been given until 6pm to safely leave their homes.
Just before 5pm, the State Emergency Service issued a "prepare to evacuate" notice for parts of Wallacia, near Warragamba Dam.
Residents in parts of Chipping Norton were also issued with evacuation orders earlier today.
Some were stranded unable to get home after rising waters closed bridges and roads bringing traffic to a standstill.
Locals told the ABC not knowing how deep the water was going to get was "worrying".
"I've lived here since 1980, supposedly it's a one-in-50-year flood area and now it's once a month," resident Muriel Enright said.
"We're waiting to see if we can go across, if it gets a little bit deeper they can maybe get a boat in and we can get in to get other things that we need.
"But the notification from the SES said to evacuate by 3pm or 3.30pm, but it's been cut off since 1pm."
The BOM said the heavy rain would ease overnight, but that showers would continue tomorrow.
Wet weather is set to hang around, with the La Nina event expected to continue until the end of April, Schofield said.
Acting Commissioner Daniel Austin from SES said sharp, short bursts of rain mean people are being "caught out" without warning.
He said the organisation had responded to 680 requests for assistance, including 25 flood rescues.
Austin said most serious rescues were caused by flash flooding, in the Sutherland Shire and Illawarra.
Several schools have closed in the Illawarra due to the downpour.
People leaving the city for the school holidays - which begin for most students this weekend - are being warned to drive carefully over coming days.
On top of stressing about the flooding, Woronora resident Diane Hoggins was trying to look after her daughter who has tested positive to Covid-19.
Hoggins and her daughter are subject to an evacuation order and were feeling a "little but nervous" ahead of high tide.
"We've been here for 26 years and this is the highest I've ever seen it," she said.
-ABC
source: https://www.rnz.co.nz/news/world/464851/evacuation-orders-rescues-as-sydney-hit-with-torrential-rain-again