Calm Djokovic sits on tennis Grand Slam precipice
Novak Djokovic says he does not feel any different "in terms of stress" as he aims to beat Stefanos Tsitsipas in the Australian Open final and win a record-equalling 22nd men's major.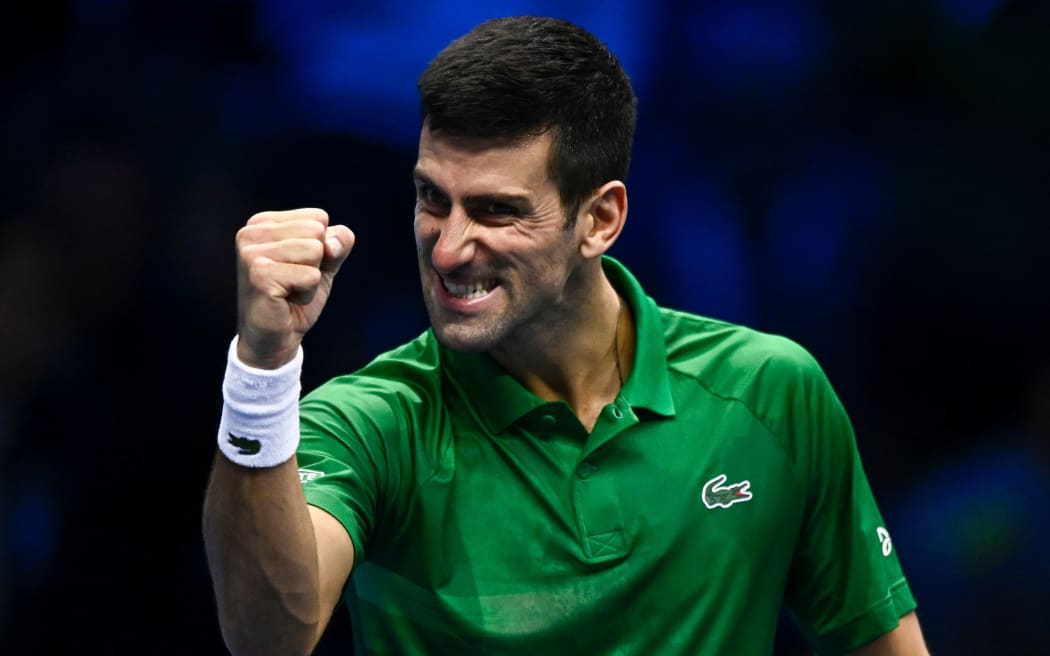 Serbian tennis player Novak Djokovic Photo: PHOTOSPORT
Serbia's Djokovic, 35, faces the 24-year-old Greek - who is bidding for a first Grand Slam title - on Sunday night.
"I know every single Grand Slam is a golden opportunity for me to try to get another trophy," Djokovic said.
"I don't know how many more opportunities I'll have."
Tsitsipas faces a tough task against Djokovic, who has not lost in Melbourne since 2018 and has dropped just one set this tournament after a series of dominant performances.
While Djokovic is competing in a 33rd major final and he is playing in only his second, Tsitsipas says he "couldn't be more ready for this moment".
Djokovic has won a record nine Australian Open men's singles titles but missed the chance to defend his crown last year after he was deported from Australia following a row about his Covid-19 vaccination status.
He has been hampered by a hamstring injury on his return to Melbourne Park and also had to deal with controversy surrounding his father Srdjan before Friday's semi-final against American Tommy Paul.
Srdjan Djokovic watched his son's win at home to avoid causing "disruption" after being pictured with supporters of Russian president Vladimir Putin.
But the player says he is not feeling any added pressure at the end of two weeks where he has the opportunity to equal Rafael Nadal's record tally of most Grand Slam men's singles titles.
"I don't think it's particularly different in terms of stress or what I'm going through on the court comparing to most of the other Slams I played in my life," he said.
"Of course, I feel it. I feel pressure. I feel stress as any other player. I feel nerves. I feel excitement. There's a lot of different emotions that go through.
"The experience of being in this particular situation and circumstances before helps. The fact that I have never lost in Australian Open finals definitely serves as a great confidence booster.
"But, of course, the job still needs to be done on the court."
Maturity the key to Tsitsipas finally reaching Melbourne final
Tsitsipas has long seemed destined to reach the final at the Australian Open, a tournament played on a hard-court surface where he thrives and in a city where he receives considerable support from its huge Greek population.
After three previous semi-final defeats, the third seed finally reached the Melbourne showpiece by beating Russia's Karen Khachanov in the last four.
It will be his second Grand Slam final after losing to Djokovic from two sets up at the 2021 French Open.
Djokovic seemed to forget he had played Tsitsipas in the Roland Garros final when asked earlier this week and the Greek is also trying to put that chastening loss out of his mind.
"I don't remember either," he said.
Former Wimbledon finalist Mark Philippoussis has been part of Tsitsipas' team at Melbourne Park and says the 24-year-old's growing maturity has helped him get there.
"Players get more mature and have more experience. And belief as well," said Australian former world number eight Philippoussis.
"The key has been not looking past what is in front of you and taking it one match at a time."
Tsitsipas has won all 10 of the matches he has played this year, going unbeaten in his four matches at the United Cup before coming to Melbourne.
His athleticism showed in a five-set win over Jannik Sinner in the last 16, as did his strength of mind to beat Khachanov after failing to close out victory in straight sets.
"I'm playing great tennis. I'm enjoying myself. I just see no downside or negativity in what I'm trying to do out there," he said.
"Even if it doesn't work, I'm very optimistic and positive about any outcome, any opponent that I have to face."
The battle for number one
For the second consecutive Grand Slam men's singles final, the winner is guaranteed to become world number one.
Djokovic, who would extend his own record by becoming the top-ranked player for a 374th week, says winning Grand Slams and being number one remain his biggest priority.
"Those two pinnacles of the professional tennis world have always been there as goals for me. So I do want to make more history of this sport, no doubt," he said.
Tsitsipas would become the 29th player to be the number one since the ATP rankings were introduced in 1973 and would fulfil a childhood dream in the process.
"I remember watching it on TV saying to myself, I want to be there one day myself. I want to recreate that feeling for me," he said.
"I knew that's a very long journey to get there. I did finish as a junior number one. Now I want to do it in the senior side."
Whoever loses will be third when the latest rankings are released on Monday, with current number one Carlos Alcaraz dropping to number two.
- BBC
source: https://www.rnz.co.nz/news/sport/483299/calm-djokovic-sits-on-tennis-grand-slam-precipice