Small toothpaste business looks to raise funds for new premises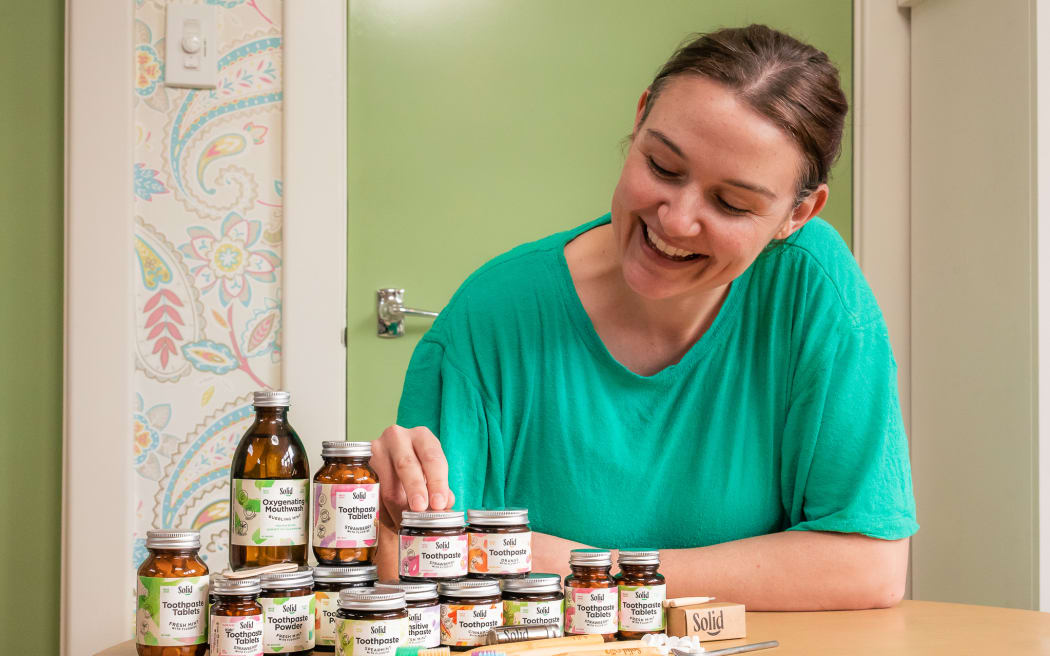 Wellington dental hygienist and therapist Laura Nixon is the co-founder of oral care brand Solid. Photo: supplied
A small business run out of a shipping container in Titahi Bay is raising capital as it looks to get rid of the plastic toothpaste tube.
New Zealand oral care brand Solid makes tablets and powders stocked in 60 niche eco stores around the country.
Founded by Wellington dental hygienist and therapist Laura Nixon and Adam McConnochie, the husband and wife duo are trying to raise $20,000 on the crowdfunding site PledgeMe.
"We're not trying to compete with Colgate on price because we can't really," Nixon said.
"We make all our products in New Zealand and we package them in glass rather than plastic tubes.
"We use different ingredients that cost more and that are palm free, vegan and cruelty free."
Laura Nixon hoped their PledgeMe campaign would fund moves to a new premises while at the same time building relationships with the ordinary folk who use their products.
Solid makes toothpaste replacement tablets and powders which are stocked in 60 niche eco stores. Photo: supplied
Toothpaste tablets and powders are becoming more mainstream and handily come in glass jars which are better for the planet than plastic tubes.
"It's basically toothpaste without the water. You take a tablet and chew it up and brush your teeth as normal," she said.
"They're really good for tramping and travelling or for anyone who wants something quick and easy at home."
The tablets made by Solid were soft and not too gritty "and turn into a paste quickly", Nixon said.
Denture products and dry mouth gels may be the next step, while requests have been made for toothpaste for dogs.
Meanwhile tougher economic conditions and threats of recession are stifling growth for some small businesses and the demand for finance.
Crowdfunding platform PledgeMe which has funded over $70 million over a decade to start-ups and small businesses said demand from entrepreneurs was falling.
PledgeMe chief executive Anna Guenther said good business ideas would come out of times of crisis, but conditions were getting tougher.
"We're not seeing the same traction as we historically have," Guenther said.
"I definitely don't think it's ideas drying up. Aotearoa is such a creative nation and we build such great companies that do more than just make money but I think definitely times are a bit tough for everyone."
Would-be investors are more hesitant and offering smaller amounts of money.
Guenther said PledgeMe had firms looking for funding at the moment including Peoples Coffee while some of its past successes include global beauty brand Ethique and Parrotdog Brewery.
source: https://www.rnz.co.nz/news/business/483212/small-toothpaste-business-looks-to-raise-funds-for-new-premises