6-year-old Miami girl fights off would-be kidnapper: "I bit him"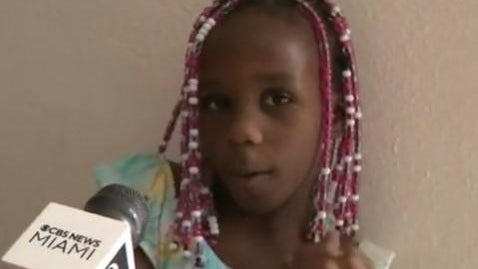 A man accused of trying to abduct a six-year-old girl from a Miami apartment complex has been arrested. The girl says she fought him off, in part, by biting him.
According to police, she was playing with her siblings in the courtyard of the complex on Thursday. As the other kids went inside, the girl noticed a newer model SUV parked near her apartment as she sat on the rear stairway.
The girl told CBS Miami, "There was a kidnapper walking to the back where I was sitting. He pulled me. He picked me up. He started running with me."
She said she told police she was suddenly grabbed by the arm by a man, who they later identified as 32-year-old Leonardo Venegas, and pulled her toward the rear of the stairs.
"She's really brave," said the girl's mother, Teshia McGill. "She fought him off."
"Then I bit him," said the girl. "Then he slapped me and threw me on the floor."
"(We're) thankful that that six-year-old little girl had a great memory," Miami police officer Kiara Delva remarked to CBS Miami. "She was able to give a great description of the suspect involved, which helped our tactical robbery detectives to locate the vehicle. Very brave - she fought for her safety."
Venegas reportedly ran toward the front of the apartment complex after the alleged attack. The girl escaped, then ran inside and told her mother's spouse. They called police. 
In reviewing surveillance video, investigators saw a white Range Rover pull into the complex and park in the area that the girl described.
Investigators said soon after, the driver is seen walking to the staircase where the girl was. Moments later, they said, he can be seen running back to the vehicle and driving off.
Using more surveillance video, investigators spotted it driving away. At one point, it passed a license plate reader and investigators were able to obtain its tag, which came back to Venegas.
A tactical robbery unit spotted the vehicle on July 8 and Venegas was taken into custody on Saturday, police said.
Delva said if you or a loved one are in a situation like the one the girl faced, "Run away as far as you can and even scream. If you feel like your life is in danger and immediately notify a parent, do not engage in any sort of conversation."
The girl agreed, suggesting potential victims "scream. And get away. Or try to do something. Or anything to try to get away from him."
"Do not talk to strangers," said McGill. "And if you have to defend yourself, defend yourself."
He was being detained on charges of kidnapping and child abuse, as well as an immigration hold, jail records showed.
Joe Gorchow joins CBS4 News as a seasoned reporter and anchor with extensive live and breaking news experience. Joe's competitive nature and passion for connecting with the community blend perfectly into his role at WFOR. He strives to provide the coverage our viewers deserve.
source: https://www.cbsnews.com/news/girl-6-fights-off-would-be-kidnapper-bit-him/