Watch: Robertson not 'gutted' by Hipkins ruling out CGT
Finance Minister Grant Robertson says he has previously been in support of a capital gains tax, but is not "gutted" by the prime minister ruling one out.
Earlier today, speaking from Vilnius in Lithuania, Labour leader Chris Hipkins ruled out introducing a wealth tax or capital gains tax if the party is re-elected in October.
Robertson said it was "an idea that clearly I think has some merit ... but I also am a team player and I'm also somebody who's very conscious of the economic conditions that we are in".
"What the prime minister has said ... is at a time of economic volatility, enormous uncertainty, he did not believe such a significant change to our tax system was the priority right now."
Robertson said the proposal for a tax switch was set to begin after the 2023 election, so it would have been tested and communicated to voters.
"We've got a job to do to support New Zealanders across a number of fronts, this is one area that clearly I feel strongly about and I think there is a lot of work that we did do and that deserves to be done but there's a lot of other important things that we've got to do as a government - be it health or housing or education - that are severely at risk from a National government that wants to gut the public service in order to pay for tax cuts.
"There are a lot of things that the Labour Party stands for - one of them is fairness. We've made some tax changes in that direction, we've considered others and decided not to go ahead with them."
He said people would not "be needing to wait much longer at all" for Labour's tax policy.
"We have a particular process in the Labour Party that's a little bit different from some other parties in terms of our caucus and our party's council coming together to agree those. We're at the very sharp end of that process now."
The government wanted to make sure it was doing what it could to reduce inequality, Robertson said, but "in the end as the prime minister has indicated, he has said he did not feel that this is the right time to do that, when economic conditions are so volatile and when we need to keep our focus, he would say, on the bread-and-butter issues".
"We're still doing important and good things. Of course we worked on this because myself and others thought it had merit, but ultimately the decision was taken that the economic conditions is not right.
"This work started in 2022, it carried on into the Budget process ... that is part of what we do, we consider ideas. The idea that we should never test an idea, that we should never take a look at something, isn't how I do my job.
"The way that we do things about bottom lines and all that sorts of things like that are dealt with by the leader. What I can say is that in the history of coalition governments it is the largest party's policies that tends to dominate economic policy. And the prime minister has been very clear that in a government that he leads he would not be having these policies."
He said in principle, if the government was in a position to be able to deliver tax relief a tax-free zone would be a good approach.
"What that means is that people on the lowest incomes in the case of the proposal we were looking at were going to get $20 a week, rather than a tax change that would be skewed to those on higher incomes.
"But obviously in order to do that we need to pay for it, and that has been my message all along."
He defended the government's record.
"We are doing what we believe in: We're building state houses, we're growing access to education, we're improving the schools that our kids learn in, we're making sure that our health system delivers to you wherever you are in New Zealand, we've lifted 77,000 kids out of poverty.
"Today, a decision has been taken not to go ahead with two types of taxation. That might be something that I would have liked to have happened but it's not happening. I'm a team player, I believe in the Labour Party, I believe in what we stand for and the good work that we're doing."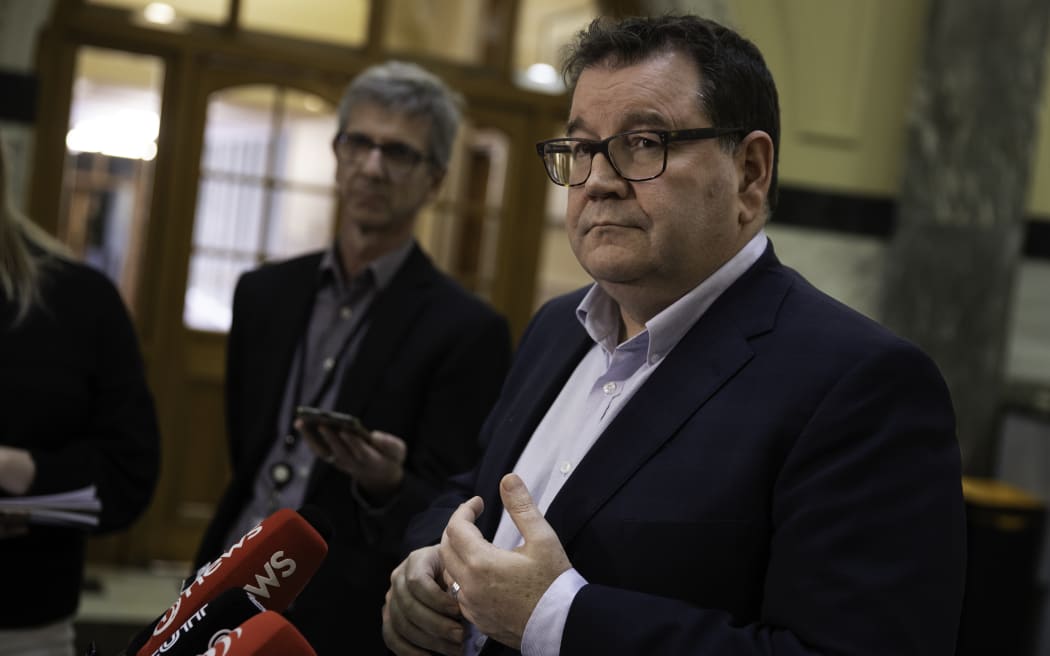 Finance Minister Grant Robertson. Photo: RNZ / Angus Dreaver
Robertson said the proactive release occurs every year about eight to 12 weeks after the release of the Budget.
"As in every Budget, an awful lot of ideas get tested - some of them are accepted, some are discarded. This particular Budget was obviously with two pieces of context behind it."
That context refers to the Auckland flooding and Cyclone Gabrielle; and the change in prime minister in January.
"It won't have escaped your notice that there was significant work done on a tax switch ... a way that we could deliver some tax relief to people in a fiscally neutral way."
He also pointed to the consideration for a levy aimed at recovering costs from the cyclone and floods.
"There's a lot of pros and cons with a concept like that, in the end on that one we felt that we could manage the costs with the allowances and our debt programme and we didn't need to go down that path."
He said Hipkins' move to rule out a capital gains or wealth tax was an extension of the promise given by Jacinda Ardern.
In a statement ahead of the briefing, Robertson said the documents reflected the process of producing a Budget with many ideas and proposals considered before the final package was settled on.
Speaking from Europe, Hipkins said with many New Zealanders struggling with the cost of living it was "simply not the time" for big changes to the tax system.
Speculation of a Labour tax policy has been rife since Hipkins became prime minister, with his predecessor Jacinda Ardern's promise not to introduce a capital gains tax during her leadership coming to an end.
That was only fuelled by Revenue Minister David Parker commissioning a study from Inland Revenue which found the wealthiest families paid less than half the amount of tax compared to other New Zealanders.
The pledge conflicts with the policy of the Green Party - who, polling has consistently showed, Labour would need to form a government - to introduce an "income guarantee" of a tax-free bracket for all earnings under $10,000. It would be funded by a new tax bracket of 45 percent on income over $180,000, and a 2.5 percent wealth tax on assets.
In other economic news today, the Reserve Bank has left its benchmark official cash rate unchanged at 5.5 percent, as expected. It is the first break in the 21-month tightening campaign which has seen 12 consecutive OCR rises.
source: https://www.rnz.co.nz/news/political/493615/watch-finance-minister-grant-robertson-gives-briefing-on-budget-documents-release