More evacuations in southern California neighborhood amid landslide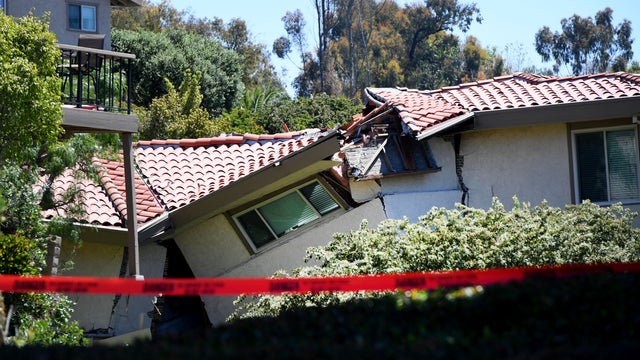 More homes have been evacuated in the Rolling Hills Estates area of Los Angeles County, as a devastating landslide continues to affect residents of the Palos Verdes Peninsula. 
Five additional houses have been placed under mandatory evacuation by officials, bringing the total to 17 after a dozen homes were evacuated over the weekend, according to the city's Mayor Britt Huff. 
In the days since, those 12 homes have been all but completely destroyed, crumbling in on themselves as land continues to give way along Peartree Lane, which runs adjacent to a canyon in the area. 
Though land movement appears to have slowed, a break in a sewer main led to the additional five evacuations on Tuesday. 
"This sewer line break is due to land movement, but not the movement of the newly evacuated housing units," said an update on the City of Rolling Hills Estates' website. "Newly evacuated residents are being provided with assistance to find shelter and the City has been in direct contact with them all."
At the time of the initial evacuations, late Saturday evening, 16 residents were given just 20 minutes to pack before they had to leave their homes. 
City leaders declared a local emergency Tuesday evening, which will provide additional access to resources and money to address the situation via the Federal Emergency Management Agency and the California Governor's Office of Emergency Services. 
"The estimated costs in responding to the Peartree Lane Land Movement Incident are unknown at this time due to the evolving nature of the situation," said a staff report prepared for the council meeting. 
Geologists and specialists have been called to the scene to survey the land movement, but there is still not known cause of the major landslide to date. 
According to Los Angeles County Fire Department Chief Anthony Marrone, crews are still watching 16 other homes closely as the situation develops. 
"We don't know how long that these homes are going to continue to move," he said. "At this time it's just a holding pattern we're in waiting to see what the final determination is going to be."
On Monday, Los Angeles County Assessor Jeff Prang said that his office would work closely with residents to make sure they are not forced to pay property tax bills for their homes or properties that have been destroyed. 
Rolling Hills Estates is a gated community located on the Palos Verdes Peninsula, about 25 miles south of downtown Los Angeles. 
The KCAL News Staff is a group of experienced journalists who bring you the content on KCALNews.com and CBSLA.com.
source: https://www.cbsnews.com/news/more-rolling-hills-landslide-evacuations-in-los-angeles-county-as-sewer-breaks-us/