Newark ship fire expected to burn for several more days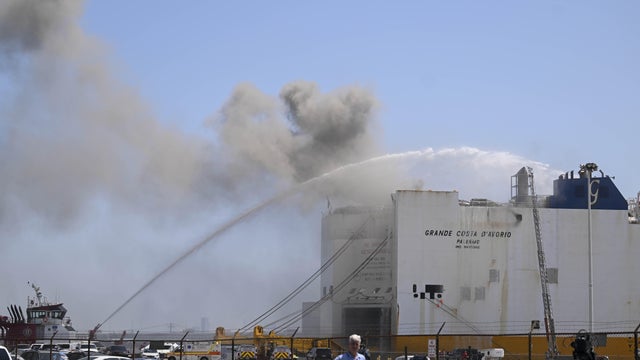 A fire that broke out Wednesday aboard a large cargo ship docked in New Jersey's Port Newark was still burning Friday, and is expected to burn for several more days, officials said Friday. Two firefighters died battling the blaze, and at least six others were injured.
"At this point, the fire is gonna burn for a couple more days, probably. It's impossible to give you any kind of definitive timeline," Thomas Wiker, president of Gallagher Marine Systems — an incident management team hired by the ship's owner, the Grimaldi Group — told reporters in a news conference Friday morning.
The fire broke out about 9:30 p.m. Wednesday on the tenth floor of the Grande Costa D'Avorio and then spread to two floors above. The blaze was contained to the upper decks, the U.S. Coast Guard said. 
U.S. Coast Guard Capt. Zeita Merchant, commander for sector New York, said Friday that the fire occurred while vehicles were being loaded onto the vessel.
At the time of the fire, the ship was carrying an estimated 1,200 vehicles and 157 containers aboard that were slated to be exported, the Coast Guard previously reported. None of the vehicles were believed to be electric.
Merchant described the ongoing firefight as an "extremely complex operation" that involved coordination with multiple local, state and federal agencies.
"Salvage and specifically shipboard firefighting, is an extremely complex operation and requires responders to consider long-term firefighting efforts, damage and destruction of the vessel, and the environmental impacts," Merchant said. "Which is why we have brought some of the world's top salvagers and marine experts here to this response."
Gordon Lorenson, a project manager for one of those salvage companies, Donjon Marine, echoed Merchant's concerns, saying in the news conference that "shipboard fires are very unique. Access is tough. The heat is extreme, it's a steel box. So it's a very complex situation."
Crews were also working on "de-watering" the vessel — a process that involves removing the water that is being pumped in to extinguish the blaze — in an effort to keep the ship stable.
"The vessel currently remains stable at this period in time," Lorenson said. "But our goal is always to get it to what we can an even keel."
Two Newark firefighters, 45-year-old Augusto Acabou and 49-year-old Wayne Brooks Jr., were initially reported missing during the firefight and were later found dead. They are the first Newark firefighters to die in the line of duty in 16 years.
Overnight, there were two sulfur dioxide readings at the ship's stern that "were moderately above what we call actionable levels," Wilker said. Personnel were temporarily moved until the sulfur dioxide levels dropped. 
There have been no other reports of "excessive air quality readings" in the area of the ship, Wilker said.  
The cause of the fire remains under investigation. Michael Giunta, president of the Newark Firefighters Union, told CBS News Friday that he believes the firefighters were not trained to battle this specific kind of fire, and believes this incident could lead to changes in training protocols.  
"It's sorry that we had to come to this day to make that happen," Giunta said.  
The Grimaldi Group said the Grande Costa d'Avorio was built in 2011 and mostly operates between North America and West Africa. 
— Errol Barnett contributed to this report. 
source: https://www.cbsnews.com/news/newark-new-jersey-ship-fire-grande-costa-davorio/