Mum throws out mattress, furniture with mould but rental passes inspection
Bronwyn McCown and five-year-old Caleb. She has moved her three children into the living room. Photo: RNZ / Robin Martin
A New Plymouth solo mum, whose three kids are camping out in the living room to avoid their cold, damp and mouldy bedrooms, is dismayed her rental passed a Healthy Homes inspection.
It passed despite the property manager conceding the bedrooms need major renovations to bring them up to scratch.
Bronwyn McCown and her children - two of whom suffer severe asthma - have lived in the Lynmouth home for several months.
She pays $550 a week, and thought everything was fine - until winter kicked in.
"In the mornings the windows were running like condensation for anything. We have one of those window vacuum things and I'd do a couple of strands and have to empty it and everything.
"They are just so damp and cold these two rooms."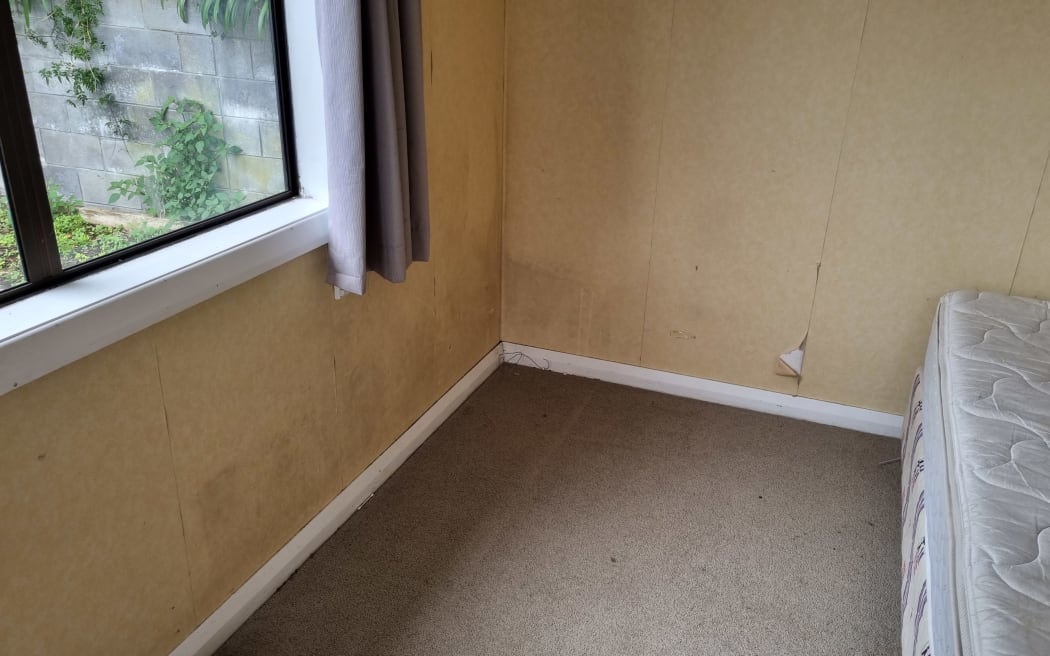 Mound lines the wall where a bed once rested. Photo: RNZ / Robin Martin
McCown has thrown out toys, furniture and mattresses because they got covered in black mould.
Frustrated, she got a referral through Te Whatu Ora - due to her children's asthma - for a Healthy Homes evaluation.
It organised an inspection from Wise Charitable Trust.
"So, they turned around and said that the house is up to the Healthy Homes Standards, but they did jump the gun where they didn't put a moisture or temperature detector in house to see how low the temperature was going. They promised us that and it never happened. Then I got the final report just the other day."
It found the ceiling and underfloor insulation, living room heating, ventilation and draught-stopping and water-tightness all met the Healthy Homes Standards.
McCown had since moved the children out of the bedrooms.
"We try heating them from a oil fin-heater from Healthy Homes and it's just putting our power bills up, so I'm just in a bit of a twist over what to do, so then I removed all my kids out of the room and I went and put them in the sitting room and they're on air beds."
The rest home cook said her power bill shot up above $1000 when she tried to heat the kids' rooms.
Ray White New Plymouth property manager Jayden Lane said after the Healthy Homes report gave the rental the green light, he sent in builders to have a look.
"Essentially the property needs to be re-lined and insulation in that room will need to be installed and then fixed from there.
"We've also got a water proofer who's going around to just make sure there's no waterproof sealing that needs to be done in the roof or any of the other cavities just to make sure, as I said before, it's not a band-aid issue, we want to fix correctly."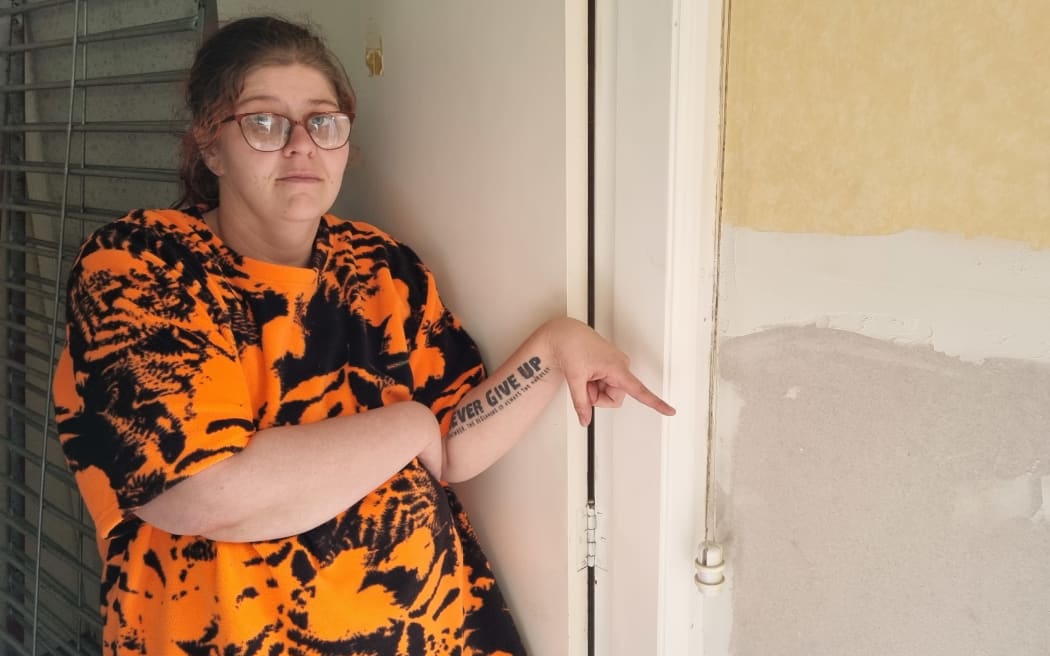 Bronwyn McCown says the wall lining was so damp in the children's bedroom she put her hand through it. Photo: RNZ / Robin Martin
Lane said the problems at the property exposed the shortcomings of the Healthy Homes Standards.
"It's something we may have to look at as a whole industry perhaps because the Healthy Homes takes into account the insulation and the living areas and various bits and pieces, but that's unfortunately above my scope because that would obviously have to come from a government level."
Wise Charitable Trust general manager Paul Scouller said it was difficult for its assessors to spot all faults.
"It's very hard to inspect what's happened on the inside of a wall unless you pull all of that wall off and you're inspecting behind that. We can't, when we are going in to assess, pull wall linings off."
He agreed the standards had short-comings.
"I think so, I think that's a fair point. I think that, you know, mould on the walls isn't actually part of the Healthy Home Standard, you know, but it should be."
Scouller said the Lynmouth home was not among the worst the trust had assessed and it had to find a balance between a property's shortcomings and the occupants' ability to manage those faults in an effort to keep a roof over their head.
Education was a big part of the trust's work, he said, and it would continue to work with McCown and her family.
Meanwhile, on the advice of her GP, she had given her notice on the home.
Ray White planned to renovate the property once she had moved out.
source: https://www.rnz.co.nz/news/national/493515/mum-throws-out-mattress-furniture-with-mould-but-rental-passes-healthy-homes-inspection