Developers cutting asking prices as housing market slows
Property developers are cutting their asking prices by tens of thousands of dollars as they try to entice buyers amid a slowing market.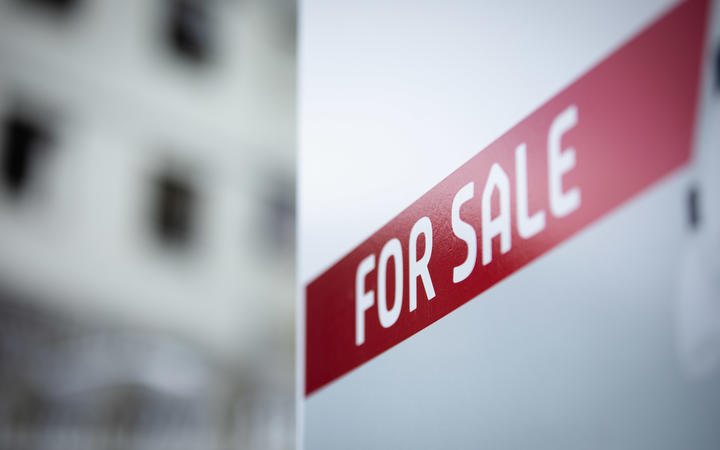 For Sale Sign Photo: RNZ / Angus Dreaver
They are struggling to get construction supplies on time, secure finance and convince buyers to purchase off the plan.
Lawyer Joanna Pidgeon from Pidgeon Judd said the market was getting tougher for developers.
"We are seeing some smaller developers on-sell. They may have bought at a premium but they're looking to because they can't get their pre sales.
"So they're having to cut their losses and move on."
That was something Lower Hutt real estate agent Shane Brockelbank has seen in his patch.
"The more well-known developers are now purchasing properties and developments that may already have a resource consent from those smaller players."
He said others were asking for longer settlements, in an effort to buy time.
"They're asking for settlement dates out 12-18 months whereas previously they may have only been able to get a three to six month period.
"So they may still be able to pay a decent amount of cash ... but they're asking for favourable terms in order to get cash out of other developments in order to settle that one."
Ray White Manukau real estate agent Tom Rawson was also seeing greater flexibility when it came to settling.
"Everyone is working to facilitate a sale. For instance asking for an extension if they need an extra month or two to get their ducks in a row."
"Buyers don't want to default and for the most part everyone's being transparent about where they're at."
Campbell Venning runs a sales company, The Property Factory, which sells mostly investment properties off the plans.
He said developers know they might have to knock back the price at the moment, in order to get a deal over the line.
"And a lot of them are expecting it because they've been getting, let's call it pretty good margins in the last two years, so ... if they want to move stock because stock's been sitting they have to drop price or give some sort of incentive for people to buy."
Shane Brocklbank said a recent development in Levin, saw developers do just that.
"We'd sold 28 unconditionally before Christmas. After Christmas we dropped the price on four of those ... and they sold straight away which got the developer to their finance position."
Joanna Pidgeon said banks were also asking developers to limit opportunities for buyers to walk away.
"So we've seen, some developers' banks are requiring them to get their sunset clauses date pushed out so purchasers cannot pull out for non-fulfillment."
Only six months ago, RNZ reported on developers deliberately delaying projects in order to boot out their buyer via a sunset clause - then resell for a higher price.
source: https://www.rnz.co.nz/news/business/465562/developers-cutting-asking-prices-as-housing-market-slows