Agricultural helicopter company in Taranaki celebrates 50 years in business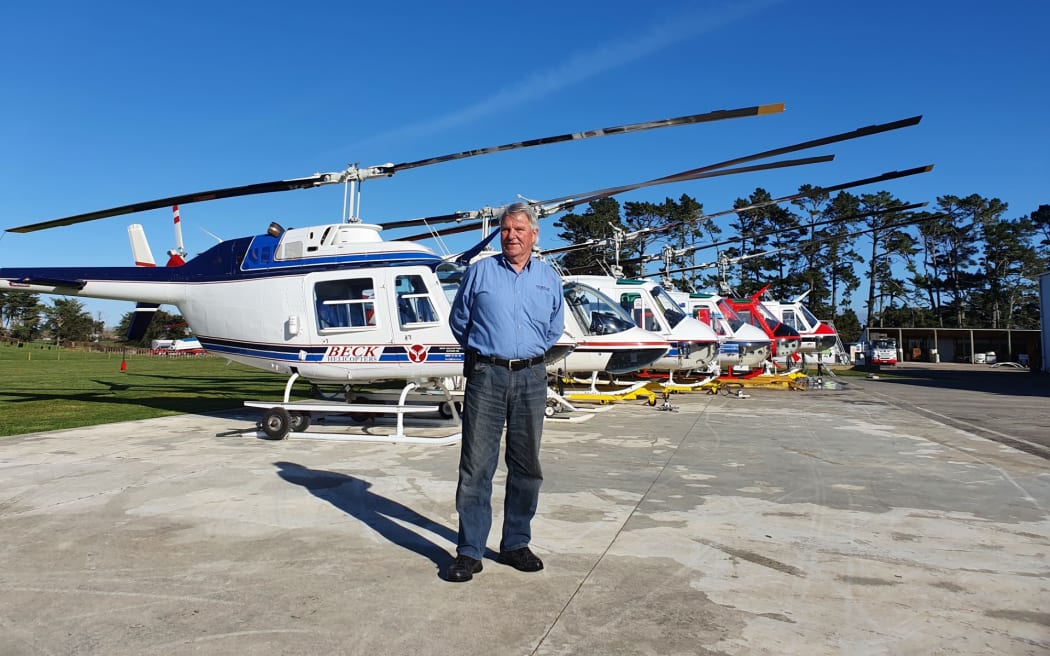 Alan Beck started his company Beck Helicopters in Eltham in 1973. Photo: Alan Beck
A Taranaki helicopter company which has the largest capacity agricultural helicopters in the country is celebrating 50 years in business.
Alan Beck was working as a ground sprayer on farms when he saw a need for helicopters to get to the steeper places - so set up Beck Helicopters in Eltham back in 1973.
"It happened by accident really because I used to hire helicopters to get to the steeper places but in the early 1970 we got let down by weather and machinery so I thought I'd get my own licence."
The company now has 14 helicopters which are used for fertiliser spraying, to lift beehives out of hill country as well as building and lines work.
Beck said a lot has changed over the last 50 years.
"Fifty years ago it was pretty unregulated - we sort of made our own rules, we had no health and safety or anything like that and it was pretty unorganised as to how chemicals or fertiliser were applied.
"Now it's all precision, guided by satellites, the rules are tight, there's no way you could operate like we used to - you'd be out of a job pretty quickly."
Beck Helicopters was established in 1973. Photo: Alan Beck
The advancements in technology have been amazing and they allowed the pilots to spray the right place with the right amount of fertiliser, he said.
He has a long list of achievements from his time in the air with the company doing work outside of agriculture such as firefighting and heavy lifting.
"I helped set up the bungy jump in Queenstown back in the '90s and just recently my son helped fly the new gondola down there as well.
"I'm also really proud of the work we did in the Port Hills fire and and the fires up around Nelson."
Beck said the highlight of the job was getting to meet so many people.
"It's getting out and working with a third generation young fellow running the farm, whose father or grandfather may have been one of our original supporters."
There are now 14 Beck Helicopters which are used for fertiliser spraying, to lift beehives out of hill country as well as building and lines work. Photo: Alan Beck
source: https://www.rnz.co.nz/news/country/493654/agricultural-helicopter-company-in-taranaki-celebrates-50-years-in-business