15 blunders that helped investigators put criminals behind bars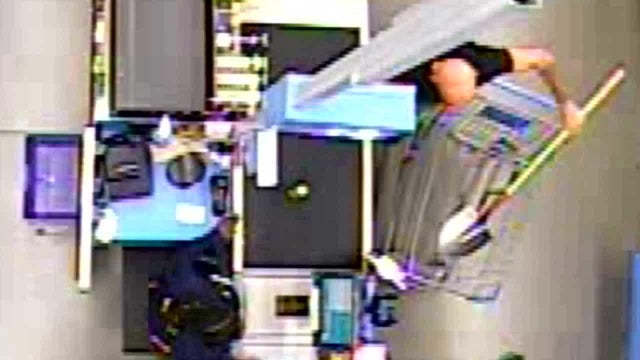 As we celebrate our 35th anniversary season, the staff at "48 Hours" has had the chance to reflect on the staggering number of cases we've featured in our time covering the criminal justice system.
We've seen the lengths some killers have gone to in order to evade justice: fake identities, burner phones, hired hitmen. They've bleached crime scenes and destroyed evidence. Bodies were buried and burned and left at sea. A chef cooked his victim. Some have come up with ingenious ways to kill — poisoning with nicotine or eye drops. We've seen crime scenes that befuddled blood spatter experts and injuries that left medical examiners unsure how the victims died. 
But some might say that just as interesting are those who made such obvious mistakes that they stand in a category of their own: examples of how not to get away with murder.
Here are 15 standouts.
After his ex-wife Carmin was found beaten and stabbed in her home, evidence showed that Thomas Murray had been researching online how to hire an assassin and "how to murder someone and not get caught." (Aired: March 29, 2008)
Investigators found video footage at the Tom Thumb supermarket of a woman who looked like Tracey Frame buying muriatic acid, a chemical used for cleaning. They believed she planned to use it to clean blood stains after she'd killed her live-in boyfriend, David Nixon. Police were able to confirm it was her because she used her customer loyalty card when she paid, saving 19 cents. (Aired: May 26, 2007) 
Jimmy Ray Rodgers and Curtis Wayne Wright used a GPS on their rental car to get directions to the home where they killed Teresa Sievers, the wife of Wright's best friend Mark Sievers. One of the other GPS points was the local Walmart, where they were captured on security cameras buying cleaning products. (Aired: Aug. 22, 2020)
Chandler Halderson had agreed to let his girlfriend monitor his whereabouts to prove he wasn't cheating - but when he dumped his mother's body, he forgot to turn off the location tracking on Snapchat. (Aired: Nov. 5, 2022)
Dr. Pamela Buchbinder and her cousin Jacob Nolan were caught on security footage at Home Depot buying a sledgehammer, which Nolan used to attack Buchbinder's ex-boyfriend, Michael Weiss. (Aired: Nov. 5, 2022)
Fred Jablin was murdered in front of his Virginia home in 2004. His ex-wife Piper Rountree, a former prosecutor, told police she was at home in Texas all weekend. But they learned she'd used a cellphone, like the one pictured, in Virginia, including having a pizza delivered to her hotel. At the time, "burner" phones were widely used by criminals — something that she should have been aware of from her time as a prosecutor. (Aired: Aug. 5, 2006)
Police found a receipt in Charles Bryant's apartment showing he'd gone on an early morning shopping trip to Walmart at 4:43 a.m. Surveillance video showed that he'd purchased a shovel. Police believe he used it to try to bury the body of Jackie Vandagriff — who he'd killed earlier that evening after meeting her at a bar. (Aired: Aug. 14, 2021)
Justin Barber said his wife April was killed during a late-night robbery, where he was also shot. Investigators discovered he'd Googled search terms "medical, trauma, gunshot, chest" six months earlier, and believe he turned the gun on himself as well as April. The day of the murder he also downloaded the Guns 'n Roses song "Used to Love Her" (But I Had to Kill Her). (Aired: June 23, 2007)
For years, the tech-savvy genius had been downloading books, articles and videos on the subject of death and murder and trying to get away with it. It was among the evidence used to convict Dinh Bowman for the random thrill kill murder of Yancy Noll. (Aired Sept. 10, 2016)
After her husband Jamie's murder, Jennifer Faith went on TV and said the man who shot him drove a black pickup truck with a big T on the back window. That tip, as well as surveillance video from the scene, led authorities to her boyfriend, who she conspired with to kill her husband. (Aired: April 9, 2022)
Dani Green told authorities investigating the death of her ex-husband Ray they could look anywhere on her large property except "that box." That box — being a large metal toolbox, sitting several yards away from the entrance to their trailer. Investigators got a search warrant for the box, and that's where they found Ray's body. (Aired: June 11, 2022)
Chris Coleman claimed someone was making threats to him and his family. His wife and two sons were found murdered inside in their house, with bright red spray paint all over the walls. Investigators traced the anonymous email threats he had been receiving back to his own laptop, then found a receipt signed by Coleman purchasing "candy apple red" spray paint at a local hardware store before the murders.  (Aired: July 19, 2014)
After the death of his ex-wife Charla, a search of Darren Mack's condo turned up a to-do list referring to "end[ing] the problem" and certain weapons that he would need to fulfill those plans. (Aired: Aug. 8, 2009)
Kris Zocco was seen on surveillance video entering his apartment building with Kelly Dwyer. It's the last time she is ever seen alive. There were 28 surveillance cameras in the building and according to the police, none of them capture Kelly Dwyer exiting the building. (Aired: May 16, 2020)
Michael Handley's estranged wife Schanda was kidnapped at gunpoint by two individuals he hired. Investigators later found surveillance video of him purchasing the handcuffs used on her, a receipt showing that he paid with a credit card to rent the van the kidnappers drove and video from his security camera showing him saying he wanted her dead. (Aired: Oct. 22, 2022)
source: https://www.cbsnews.com/news/48-hours-15-blunders-that-helped-investigators-put-criminals-behind-bars/