Deadly ice storm ending in South, bitter blast ahead in Midwest, New England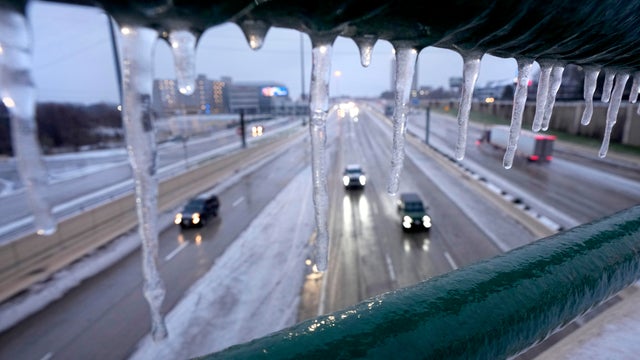 A mess of ice, sleet and snow lingered across much of the southern U.S. as hundreds of thousands in Texas endured freezing temperatures with no power, including many in the state capital of Austin, but a warming trend was forecast to bring relief from the deadly storm Thursday.
At the same time, forecasters said Mother Nature had record-breaking cold on tap for the upper Midwest and New England.
More than 400,000 homes and businesses in Texas were without power early Thursday as trees, heavy with ice, buckled onto power lines, according to PowerOutage.us, a website tracking utility reports.
More than 150,000 of those outages were in Austin, where the city's utility warned residents who'd been without electricity that lights and heat mught not come back on until later Thursday.
Pablo Vegas, who heads the Electric Reliability Council of Texas, vowed the state's electrical grid and natural gas supply would be reliable and there wouldn't be a repeat of the February 2021 blackouts when the grid was on the brink of total failure.
School systems in the Dallas and Austin, plus many in Arkansas and Memphis, Tennessee, planned to be closed Thursday as bands of winter precipitation continued to push through.
More than 700 flights scheduled for Thursday already had been canceled by Thursday morning and almost 700 had been delayed, according to the flight tracking service FlightAware.com. That followed thousands of cancelations and delays since frigid weather set in Monday.
Watches and warnings about wintry conditions were issued for an area stretching along the West Texas border with Mexico through Oklahoma, Arkansas and Louisiana and into western Tennessee and northern Mississippi.
The treacherous driving conditions resulted in at least eight deaths on slick roads since Monday, including seven in Texas and one in Arkansas. Republican Texas Gov. Greg Abbott urged people not to drive.
Meanwhile, CBS News weather producer David Parkinson said "record and dangerous cold" would blanket both the Upper Midwest and New England Friday and Saturday.
"Nearly 100 million Americans will start their day below 20 degrees on Friday and 140 million will on Saturday," he said, though he forecast a "rapid rebound" with the mercury back above average by the start of next week.
Hibbing, Minnesota will break a record with a low temperature of 32 degrees below zero and a wind chill 10-20 degrees colder than that on Friday. Parkinson said.
Later in the day, high temperatures will only get up to one degree below zero in Burlington, Vermont, also a record. Saturday morning will bring low temperatures of negative-three in Boston, minus-two in Providence, Rhode Island and just six degrees in New York, Parkinson pointed out. Parts of Maine and New Hampshire could shiver through wind chills of 60 degrees below zero -- or lower.
source: https://www.cbsnews.com/news/deadly-ice-storm-south-bitter-temperatures-upper-midwest-new-england/