'Nightmare traffic' eases on SH1 north of Auckland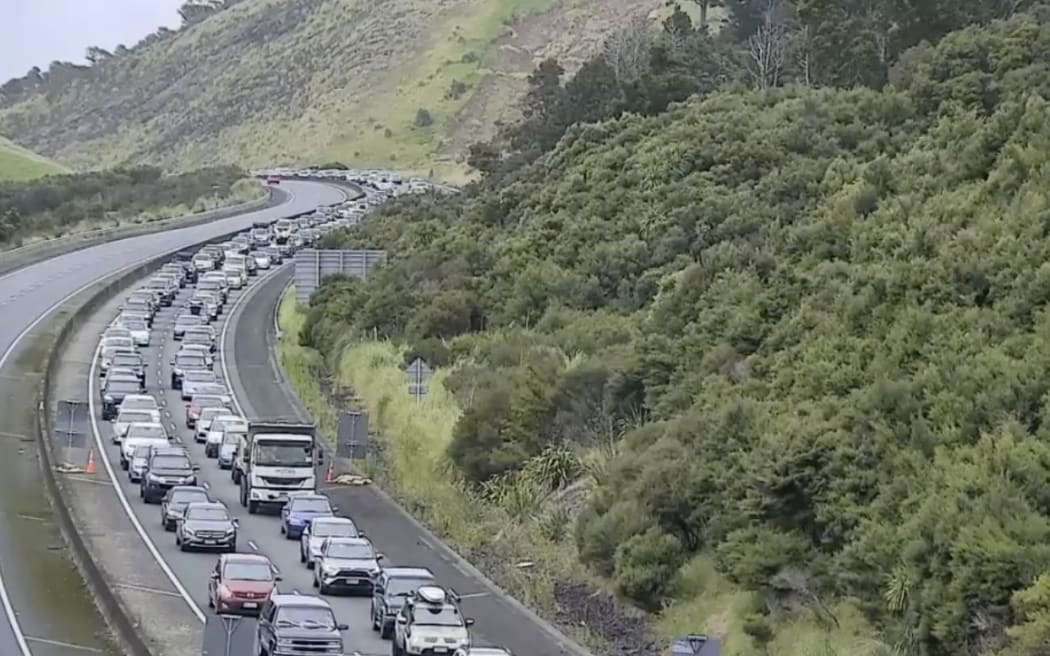 Traffic is backed up on SH1 Northbound of Auckland, Waka Kotahi says. Photo: Supplied / Waka Kotahi
Aucklanders are being urged to take extreme care over the long Waitangi weekend, after a week of record-breaking rainfall.
Auckland remains in a state of emergency, after Mayor Wayne Brown extended the declaration on Friday.
Holidaymakers on their way to Northland were earlier experiencing nightmare traffic on State Highway 1.
The highway was congested due to high traffic volumes for the long weekend.
Hundreds of cars are crawling along State Highway 1's northbound lane in upper Waiwera, which has since eased.
Further north, a stretch of the highway in Brynderwyn is operating at a lower speed and with only one lane after a slip during the week.
Coromandel has also declared a state of emergency, as there is concern about the potential for further land slips in the region.
Much of Thames Coromandel is now accessible to travellers but the situation is fluid and motorists are warned to check roading conditions before they set out.
The area went into a pre-emptive state of emergency yesterday.
The district's Mayor Len Salt said some slips are still moving and State Highway 25A remains closed for the foreseeable future.
He said the coastal road north of Thames to Coromandel township, which has cliffs on the landward side, has also been closed at Ruamahunga due to a slip.
"That cliff has fallen down and the roading crews are busy dealing with that.
"Probably another day, day and a half to get that cleared and open up to traffic again."
Salt says roads north of Coromandel township are also affected by slips which have closed to partially closed roads.
"North of Coromandel we've still got some issues that we're dealing with the slips.
"Kennedy Bay, Colville Road - some of them it's a dynamic situation, some of those are down to one lane."
The main route north out of Auckland has re-opened this morning for northbound traffic, after a false start during the week.
State Highway 1 was closed at the Brynderwyn Hills when a slip came down after last Friday's deluge.
Waka Kotahi said crews had been at the site clearing and geotechnical engineers have re-assessed the steep slip on the hill.
Maintenance and operations manager Mark Owen said staff will remain on site to monitor the slip, which still has not completely stabilised.
"Our team's always looking at how quickly we can open roads. The key this is that we do it safely.
"We were hoping to do it earlier and we were all on track to do it and then we had more material come down, so the criticality is the safety of people travelling and that's why we need the specialist geotech assessment to tell us when they think it's safe to open."
"No indications at this stage, we're just looking short term. Our focus was to initially get one lane open - obviously we're focused on getting both lanes restored, but we need to make sure when we do that the slope is in a stable state."
The highway is now open for northbound traffic until 8pm on Saturday, and again from 8am on Sunday.
On Monday, Waka Kotahi will change the direction of the traffic flow to allow southbound travel back to Auckland.
The upper North Island will enjoy a brief respite from the rain this long weekend as the wet weather heads south, MetService said.
Despite Coromandel's declaration, MetService said it was unlikely to face heavy rainfalls over the coming days.
Meteorologist Alwyn Bakker said it was a much needed break for the far north.
But showers and some thunderstorms were forecast for some central to lower parts of the North Island.
MetService has issued a severe thunderstorm watch for Hawke's Bay, Taihape, Whanganui, Manawatū and Tararua, from 2pm this afternoon until 9pm.
It is expected that these areas will get showers and a few thunderstorms, with a moderate risk of the thunderstorms becoming severe.
Weather warnings are also in place for the South Island's western coast on Sunday.
Heavy rain watches are in place from the Tasman through to Otago, while Westland and Fiordland have a heavy rain warning.
The heaviest rainfall is expected about the ranges of Westland, south of Otira with up to 300mm forecast from midnight Saturday until 6pm on Sunday.
A strong wind warning is also in place for Fiordland, where severe northerly gales are expected.
Lifeguards are urging people not to ignore the red flags at Waikato waterways and stay out over the long weekend.
Eastern region surf lifesaving manager Chaz Gibbons-Campbell said they took the unprecedented move to close all beaches on the advice of public health authorities - because of the risk of contaminants after severe flooding.
Unless told otherwise, they would keep the beaches closed until Tuesday, Gibbons-Campbell said.
Patrols would be out in force to ensure people did not risk their health by going in the water, he said.
Despite the closures, a person died in what lifeguards are saying was a preventable incident in Mt Maunganui yesterday.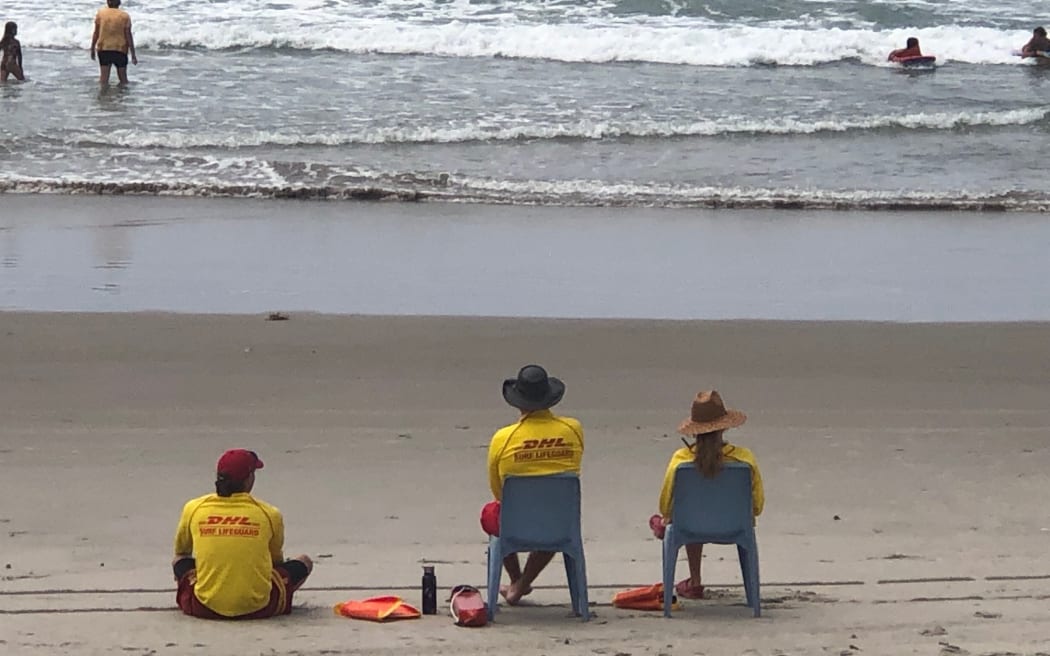 Waikato beaches are closed (file image). Photo: Sharon Brettkelly
Gibbons-Campbell said the male was rescued from the surf by Omanu lifeguards, but was unable to be revived.
The death was tragic and unnecessary, he said.
"All the beaches at the moment, we're saying no swimming. We've got red flags across all our beaches at the moment, including in the Bay of Plenty here and we're asking people not to go in the water.
"That's on all our signage, it's on SafeSwim.org.nz, so yeah, this definitely could have been prevented."
Gibbons-Campbell said it was "a simple message".
"Heed the advice we've got out there at the moment."
Lifeguards were also warning beaches across the Coromandel posed a risk due to unstable sand.
The region has been hammered with consistent rain since the deluge brought by Cyclone Hale caused significant erosion.
Chaz Gibbons-Campbell said people should avoid walking on the sand dunes.
Auckland waterways also remain closed following the severe weather.
Access to Piha, a hotspot for walkers and weekend visitors, is restricted following severe damage to Swanson's Scenic Drive following the weather event.
Residents were warning of a detour on West Coast Road.
Auckland Council said floodwaters have washed contaminants, waste water and debris into waterways and onto beaches.
"Slips and unstable cliffs may make beaches hazardous," it said.
source: https://www.rnz.co.nz/news/national/483617/take-extreme-care-over-waitangi-weekend-aucklanders-told