Auckland bus services affected by short notice industrial action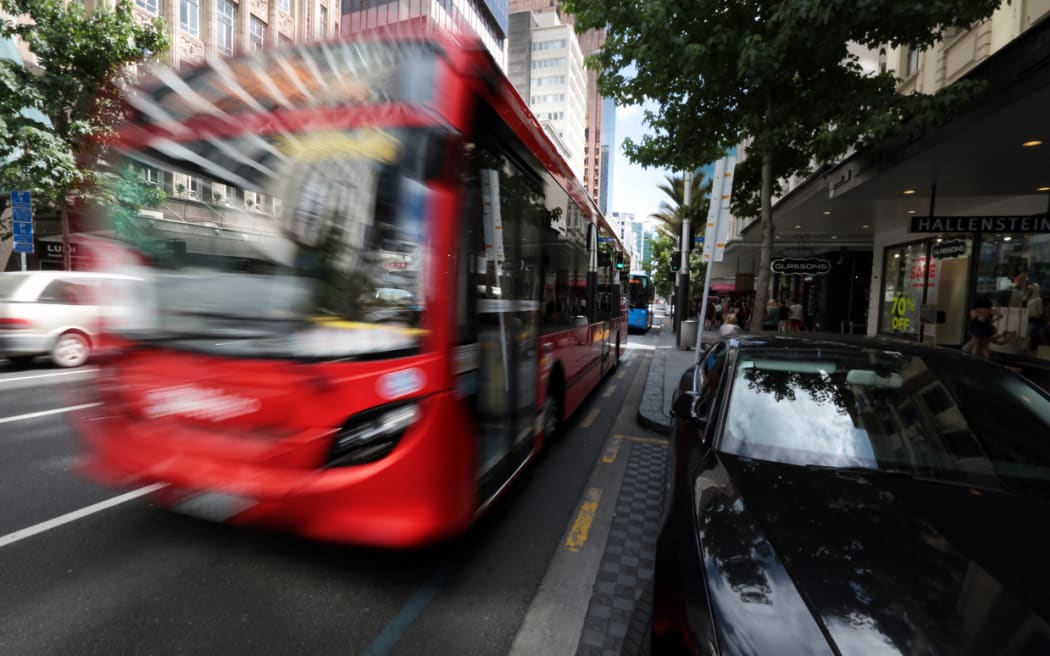 Fine image. Photo: RNZ / Diego Opatowski
Up to 700 morning bus trips in Auckland tomorrow could be affected by industrial action that has been organised on short notice.
And if a resolution was not reached, morning strikes could last until Thursday.
In a statement, Auckland Transport said bus users should check the journey planner and think about when they would travel on Monday morning.
The affected bus routes, operated by NZ Bus, include morning peak times.
North Shore express buses are run by a different operator and will not be impacted.
Executive general manager of public transport services Stacey van der Putten said AT had been told that NZ Bus and union representatives would enter mediation on Monday morning.
"It is deeply disappointing Auckland's bus users will have their morning travel disrupted by this industrial action at a time when the reliability of services and our passenger numbers have been improving," van der Putten said.
"Tomorrow's industrial action has the potential to disrupt tens of thousands of Aucklanders and we appreciate how deeply frustrating this is for our customers who have been incredibly patient over the past year while we worked to overcome the driver shortage.
"We're urging our bus passengers to use the AT Mobile App or Journey Planner before they travel tomorrow morning to find out whether their usual bus trip is affected and to see options for alternative services they can travel on."
van der Putten said she hoped the unions and NZ Bus could work quickly to resolve the dispute so that "tens of thousands" of Aucklanders are not "unnecessarily inconvenienced" further into the week over issues that "could have been dealt with in mediation".
The New Zealand Tramways and Public Transport Union said bus drivers will each stop work for an hour sometime between 4am and 8am on Monday.
Union president Gary Froggatt said Auckland drivers were asking to be paid the same rate of $30 an hour as drivers in Wellington, Christchurch and Dunedin.
If a resolution was not reached, the morning strikes will continue until Thursday, Froggatt said.
source: https://www.rnz.co.nz/news/national/493448/deeply-disappointing-auckland-bus-services-affected-by-short-notice-industrial-action