Whakaari / White Island trial: What you need to know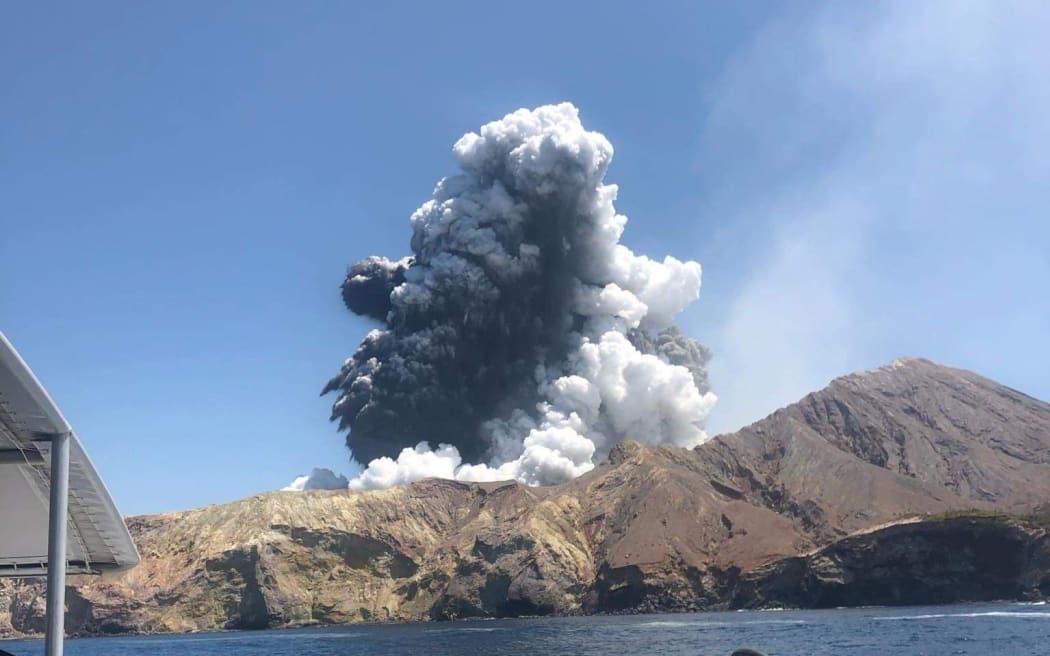 The Whakaari / White Island eruption as seen from a tourist boat. File photo Photo: Supplied / Lillani Hopkins
The owners of a small volcanic island are now the main defendants facing trial over health and safety failings in the lead up to the deadly Whakaari eruption, after a raft of guilty pleas.
Three members of the Buttle family are defending charges brought against them by WorkSafe at the Auckland District Court, alongside their company and two companies that booked and marketed tours to cruise ship passengers.
In the months leading to the trial, six organisations have pleaded guilty and another had a charge dismissed.
The charges do not relate to the rescue and recovery efforts after the eruption.
The judge-alone trial before Judge Evangelos Thomas is being held in one of Auckland's largest courtrooms to accommodate the number of people involved, including legal teams, media and families of victims.
It has been more than three years since the disaster in December 2019, which claimed 22 lives and left 25 seriously injured, and made headlines around the world.
Often visible from the east coast town Whakatāne and known for its white plumes, Whakaari is a small active volcano that until that fatal day had been a popular tourist attraction.
When the island erupted, 47 people were on the crater - many were tourists from overseas who that morning had stepped off a cruise ship berthed in Tauranga.
Almost a year after the tragedy, in November 2020, WorkSafe charged 13 parties - 10 organisations and three individuals - for health and safety breaches leading up to the eruption.
Since then, six of the organisations have pleaded guilty - four helicopter companies, GNS Science and White Island Tours, while a charge against the National Emergency Management Agency (NEMA) was dismissed.
Those no longer standing trial could now be among the witnesses WorkSafe is calling to the stand to give evidence in court.
WorkSafe will open the trial on Tuesday and plans to play back defendant interviews in coming weeks.
Its chief executive Phil Parkes said it has been the most extensive and complex investigation ever undertaken by the regulator.
A virtual courtroom in Whakatāne, at Acacia House, will have a video link of the trial for any locals who would like to attend.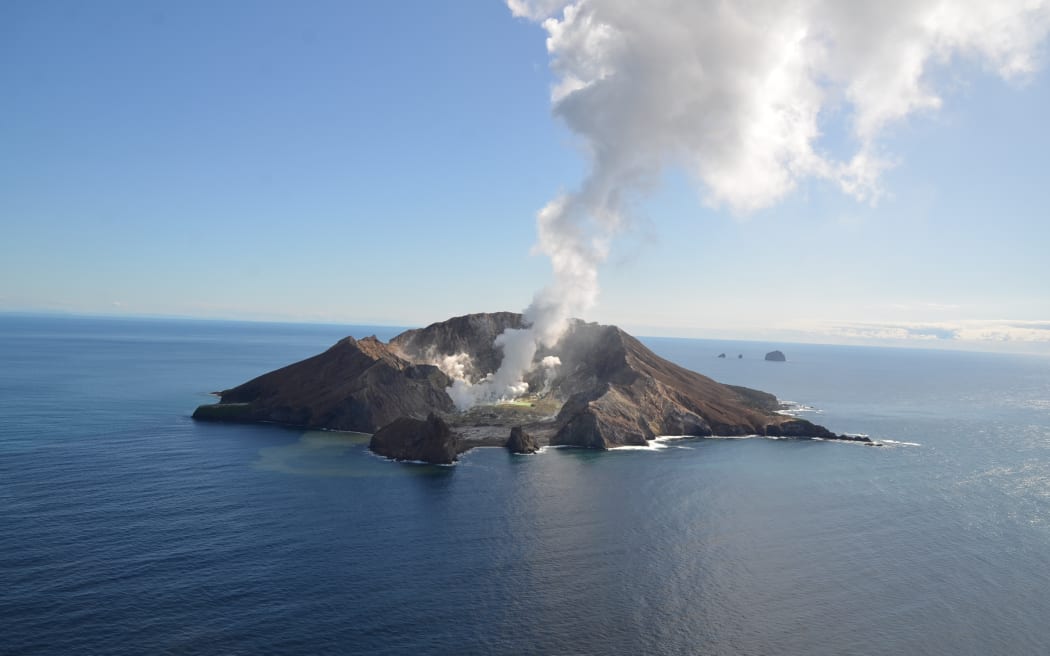 Whakaari / White Island was a popular tourist destination near Whakatāne in the Eastern Bay of Plenty. Photo: GNS
Whakaari is among a few privately owned islands in New Zealand and has been in the Buttle family's hands since 1936.
Three members of the family, Andrew, James and Peter Buttle, have been charged as individuals and will face trial as directors - companies office records show they each own an equal share in the holding company Whakaari Management.
Directors can be prosecuted for failing to meet their obligations under the Health and Safety at Work Act 2015 and there can be a public interest in holding directors to account personally, where they may be liable.
Directors are required to exercise due diligence to ensure that the company they oversee is meeting its health and safety obligations.
Meanwhile their company, Whakaari Management, is among the six remaining organisations facing charges relating to failures to ensure the health and safety of workers and others.
Whakaari is owned and controlled through Whakaari Trustee and Whakaari Management - the Buttle trio are joint directors and shareholders of both companies.
Court documents state Whakaari Trustee owns the island and leases it to Whakaari Management, through an undocumented lease arrangement.
Whakaari Management granted access to the island for tour operators, through licence agreements who paid an annual fee and a commission for every tourist they took to the island.
The three Buttle men failed to have the charges against them dismissed earlier this year.
At the time, they argued they had not had fair notice of what the charges were against them.
Judge Thomas amended WorkSafe's charge to the allegation that the Buttles failed to obtain expert advice on how their company, Whakaari Management, could ensure that guided tours of Whakaari were conducted safely.
Two other tourism companies also face trial - the booking agent ID Tours New Zealand which worked with the cruise sector and Tauranga Tourism Services which was the local agent for the tour provider White Island Tours.
Six defendants have pleaded guilty since WorkSafe laid the charges in 2020.
Inflite pleaded guilty in March 2022, and was ordered to pay more than $250,000.
The Auckland-based company used subcontractors, including Kāhu Helicopters, to operate tours - the day of the eruption, Inflite operated a tour to Whakaari using Kāhu as the tour provider. However, no Inflite tourists were on the island when it erupted as they returned shortly after midday.
Inflite admitted it failed to undertake an adequate risk assessment, or implement appropriate controls to ensure the health and safety of tourists.
The summary of facts said Inflite did not have a safety management system or any safe operating procedures for conducting guided tours on Whakaari.
Inflite did not provide adequate safety information to tourists, at any stage of the booking and tour process.
It said Inflite's PPE for tourists, including gas masks, was "inadequate".
"They did not provide adequate protection against the high concentrations of hydrogen sulphide and sulphur dioxide on Whakaari. The masks were also 'one size fits all' yet did not fit all face shapes, people with small faces or those with beards."
In May, GNS Science pleaded guilty to one charge relating to multiple field trips its staff took to the island, before the eruption, and the institute's failure in its duty to the helicopter pilots, who were contractors.
A WorkSafe investigation found the institute did not sufficiently consult with the pilots about the risks despite carrying out risk assessments for its staff, including volcanologists on the field trips.
GNS monitors volcanoes through its GeoNet programme.
The summary of facts said GNS was required to ensure, as far as was reasonably practicable, the health and safety of workers who work for it, including contractors, while they were working on GNS' business.
"This included the helicopter pilots who regularly flew GNS' workers to and from Whakaari and were required to remain on Whakaari while GNS scientists carried out field work," it said.
"While not required to, helicopter pilots would from time-to-time accompany the scientists while they conducted this field work."
In the months leading up to the eruption, GNS staff were transported to and from Whakaari by helicopter pilots on 23 occasions.
GNS is still to be sentenced and faces a maximum fine of $500,000.
Just last month, White Island Tours changed its plea to guilty.
The charges, filed by WorkSafe, relate to having staff and tourists on the island in the lead up to the eruption.
WorkSafe found White Island Tours failed to conduct risk assessments, consult with GNS Science and provide appropriate protective equipment to workers, including gas masks which were inadequate.
WorkSafe said such measures could have reduced the extent of injuries.
White Island Tours had exclusive rights to run tours with a boat to the island - before the eruption 17,000 people visited Whakaari on its tours each year.
The summary of facts said the company did not have an accurate understanding of the risk posed to its tourists and tour guides by volcanic activity on Whakaari.
As a result failing to consult GNS, "White Island Tours operated under its own, inaccurate assumptions and understanding of the nature of the risk at Whakaari and, more particularly, the type of eruption Whakaari could produce. This meant it could not adequately mitigate the risk to tourists."
White Island Tours is still to be sentenced.
And the latest - three commercial helicopter tour operators pleaded guilty at the 11th hour, one working day before they were due to face trial.
Volcanic Air, Kāhu and Aerius entered guilty pleas to amended charges in the Auckland District Court on Friday, and are still to be sentenced.
At the time Judge Evangelos Thomas told the court the "the landscape for trial is now far different that it was yesterday or two days ago" and delayed the start of the trial by one day.
The three helicopter operators had licence agreements with the island's owners, through the company Whakaari Management, to land and provide guided walking tours on Whakaari.
WorkSafe found the companies failed to do risk assessments, inform tourists of the risks and provide protective gear - it said each company's gas masks were inadequate.
The summary of facts said that two companies, Volcanic Air (in liquidation) and Aerius, had inadequate emergency procedures as a result of their failure to assess the risk.
It said their plan for a volcanic eruption "consisted of tourists following the instructions of workers to find shelter either behind rocks, in the helicopter or in the shipping container, and then evacuating Whakaari by helicopter or boat if available".
WorkSafe found Kāhu's emergency procedure was also inadequate, as it relied on pilots not being injured so they could conduct an evacuation.
Rotorua based Volcanic Air went into liquidation in October 2022, it has been reported this was partly because its business nosedived during Covid-19 border closures.
On the day of the eruption, the company had a pilot and four passengers on the island. The helicopter was damaged in the explosion and they were evacuated by boat, two with minor burns.
Based in Whakatāne, Kāhu Helicopters is owned by former SAS soldier Mark Law who received a bravery award for his efforts rescuing people from the island after the eruption - the company was not taking tours that day.
Aerius Helicopters operated out of Tauranga and stopped offering tours in 2020, posting online that the year had been a struggle and they were "unable to pull through to the other side".
Commercial helicopter pilots who risked their own lives in the aftermath of the Whakaari White Island explosion received New Zealand Bravery awards for their efforts.
Five pilots received the New Zealand Bravery star - the country's second highest bravery award next to the New Zealand cross.
Between them, the pilots hovered over tour boats, lifting badly injured survivors onboard their helicopters to safety and flying them to the mainland.
Other chopper pilots landed on the island itself, wading through falling ash wearing gas masks to search for casualties.
Their efforts saw them find 20 people on the crater floor.
The Whakaari / White Island mission to recover bodies of the victims. Photo: NZDF
It took an hour and a half for tour boats to reach Whakaari, 48 kilometres off the coast of Whakatāne.
The island has been active for at least 150,000 years and is New Zealand's most continuously active volcano.
On the day of the eruption, 9 December 2019, at 2.11pm, a surge of fragmented rock, volcanic ash and hot gases engulfed Whakaari within minutes.
It was not the first tragedy in the island's history, which was home to a suphur mine - in 1914 a landslide that may have been triggered by an eruption killed all 10 people on the island, and the sulphur mine they were working in.
Court documents state another eruption that occurred in April 2016 was of similar magnitude to the December 2019 eruption, but occurred at night when no tour groups were on the island.
"Had there been anyone on Whakaari during the eruption of April 2016, it is likely they would have suffered a similar fate to those who were there during the eruption on 9 December 2019."
source: https://www.rnz.co.nz/news/national/493519/whakaari-white-island-trial-what-you-need-to-know