Sex study aims to improve blood donation policy, HIV prevention
Health researchers are hoping an ambitious new study will change what they say are unfair blood donation rules for gay and bisexual men.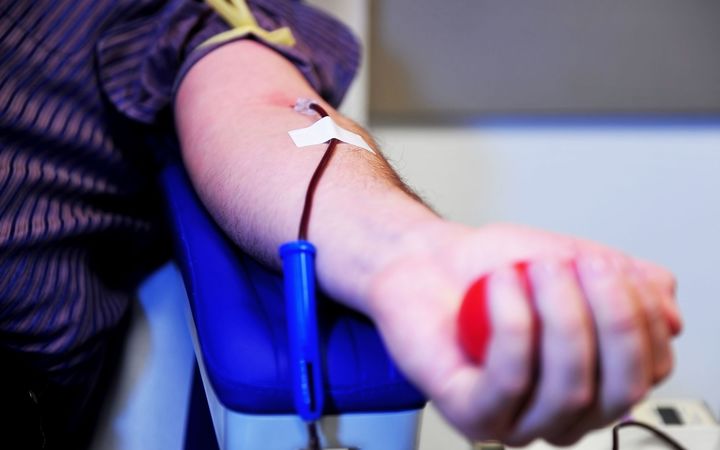 Over the next eight weeks, the University of Auckland-led Sex and Prevention of Transmission Study (SPOTS) aims to gather data from 4000 gay, bisexual, takatāpui and other men who have sex with men (MSM) through an online survey and optional dried blood spot test.
The researchers will use the data to estimate what proportion of sexually transmitted infections are undiagnosed.
New Zealand Blood Service rules mean men are unable to donate blood within three months of having sex with another man.
However, men also can not have taken HIV prevention drug pre-exposure prophylaxis (PrEP) for three months, a drug that can reduce the risk of being infected with HIV by 99 percent.
Lead investigator Dr Peter Saxton said people find these rules "discriminatory, unscientific, and unjustified" - partly because all blood donations are screened for transmissible infections.
"Many gay and bisexual men [in New Zealand] are at very low, or no, risk of having recently acquired HIV infection".
He also noted being rejected from donating blood "can play into stereotypes about being reckless and dangerous, and into broader narratives of exclusion and discrimination in healthcare settings for gay men".
He hoped the findings would give the Blood Service the evidence it needed to change donation rules because "obviously, no change can come soon enough".
The study would also help show where HIV prevention could be better targeted for MSM to try and end transmission in New Zealand by 2025.
Saxton said prevention included PrEP, condoms, regular testing, and getting people with HIV on treatment early and reaching undetectable viral loads (someone with an undetectable viral load can not transmit HIV to another person).
Covid-19 restrictions and the cancellation of Auckland Pride in February, where the study was supposed to launch, saw the study moved online; something that has ended up taking weeks to make work.
Saxton was confident about their research goals but said moving online was "high stakes".
The optional blood test, which would be tested for HIV, syphilis and hepatitis C, could find undiagnosed infections and researchers needed to make sure a participant, their test results, and survey responses lined up.
Kevin Haunui works for Māori sexual health organisation Te Whāriki Takapou, which is a key partner in the study, and said it was important data about Māori MSM was collected because there would otherwise be gaps in the research.
Pre-existing information around HIV relating to Māori "may be outdated, it may be uninformed", he said. "In fact, it may have never been collected before."
"What we do know from other studies that have been undertaken in recent years is that Māori, in particular with regards to HIV, are likely to diagnose later."
Haunui said Māori MSM were also a "very young population", which could mean trends among that demographic may differ from the overall research.
New Zealand Blood Service chief medical officer Dr Sarah Morley said the study was "an important first step" in understanding the influences on sexual health and HIV prevention.
She did not think the organisation's policies were discriminatory.
"Our hope for this study is that gives us some real concrete evidence about the situation in New Zealand so that we can tailor our policies specifically to New Zealand's population."
The three month blood donation rule came into effect in late 2020 - before that men had to wait a year after they last had sex with another man.
source: https://www.rnz.co.nz/news/national/465888/sex-study-aims-to-improve-blood-donation-policy-hiv-prevention