Florida parents arrested in death of 18-month-old girl left in car overnight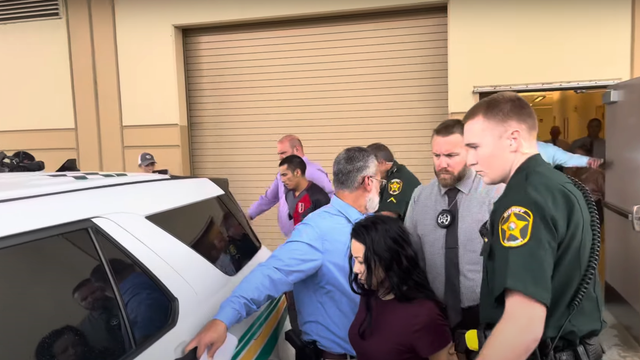 Officers in Florida arrested a couple on charges of aggravated manslaughter of a child after they allegedly left an 18-month-old girl in their car overnight, officials said. 
The child was left alone in the car from around 2 a.m. Wednesday until around 11 a.m., when the heat index was 105 degrees Fahrenheit, Polk County Sheriff Grady Judd said during a news conference Thursday. Parents Joel and Jazmine Rondon had attended a Fourth of July party with their three children and allegedly left the 18-month-old in the car when they got home.
"It is brutally hot for everyone under the best of circumstances and then this child is shut in the car, obviously with no movement of air, with it becoming hotter and hotter and hotter as the morning went on," Judd said. 
It was the tenth hot car death this year, according to KidsandCars.org, a nonprofit that gathers that information. About 38 children under the age of 15 die each year from heat stroke after being left in a car, according to the National Safety Council. 
Judd said the most recent death was not an accident. He said both parents drank and used drugs at the Tuesday party. Seventeen hours after they arrived home around 2 a.m. Wednesday, officials said Jazmine Rondon tested positive for alcohol and marijuana, and Joel Rondon tested positive for alcohol, marijuana and methamphetamine.
"This is pure negligence and I suggest to you the core of the negligence is the use of drugs," Judd said. 
According to police, Jazmine Rondon took their 6- and 8-year-old children inside after the Lakeland party to give them something to eat and put them to bed, and told her husband to bring their youngest inside. 
Joel Rondon brought some trays of food inside, but when he saw the car doors were all closed, he assumed his wife had brought the 18-month-old girl inside. He saw she was asleep and went to bed himself around 3 a.m. Neither parent asked the other if they had brought the girl inside.
"They got the food in the house, but they didn't get the baby in the house," Judd said. 
Police said Joel Rondon woke up around 10 a.m. and got ready for work. Around 11 a.m., he asked their 8-year-old child where the 18-month-old was. The 8-year-old didn't know, so Joel Rondon began looking around the house before finding the child outside in the car, which was parked in the driveway in the full sun. He ran inside and shouted for his wife, who was still sleeping. 
The mom had some kind of medical training and knew the child was dead, police said, but the couple drove the 18-month-old to Lakeland Regional Health Medical Center for treatment, Judd said. 
"When we started our investigation at like 2:30, 3 o'clock in the afternoon, after the life-saving measures, after the body being cooled down, the baby still had a core temperature of 104.4 degrees, and this was like three hours after the baby was taken out of the hot car," Judd said. 
An autopsy determined that the cause of death was hyperthermia due to being left in a car, officials said. "This child should have grown and flourished and grown up into a productive teenager and adult and now she won't have the chance to do that," Judd said.
Joel and Jazmine Rondon were arrested Thursday and booked into the Polk County Jail. Joel Rondon has a criminal history, with arrests dating back to when he was 15, authorities said. Both parents are now 33.
Judd said the parents were remorseful and admitted to drinking and using marijuana at the party. 
"I think the real remorse will be tonight when they're sitting in the county jail, in an air conditioned environment, thinking 'it's nice and cool here when my baby baked to death because of my negligence and my use of drugs,'" Judd said. 
The 6- and 8-year-old children are with other relatives, officials said. The Florida Department of Children and Families was contacted.
Aliza Chasan is a digital producer at 60 Minutes and CBS News.
source: https://www.cbsnews.com/news/florida-parents-arrested-in-death-of-girl-left-in-car-overnight/