Less is Moore - why the Black Ferns still needed a change
Comment - Even before New Zealand Rugby's woeful Black Ferns culture review, Glen Moore's position as coach deserved to be put under scrutiny, writes Jamie Wall.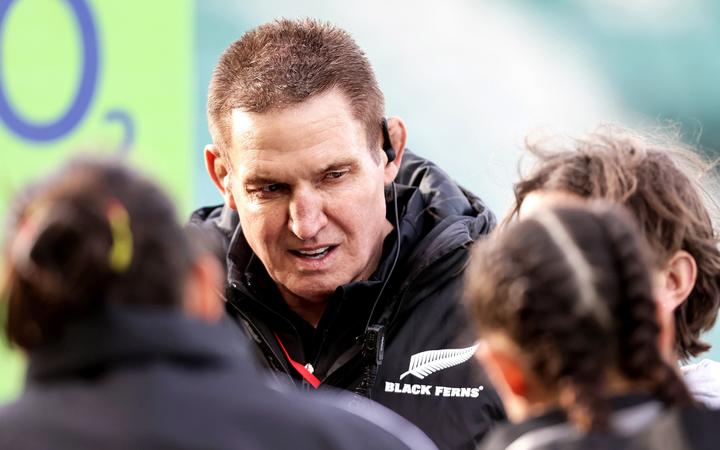 Black Ferns coach Glen Moore Photo: Photosport
We used to joke that Glenn Moore had the dream job in NZ rugby. Coaching a world champion Black Ferns team that hardly ever lost, containing players so good they would barely need to be told what to do. A couple of trips away a year and nowhere near the sort of pressure that came with his previous gig as head coach of the Highlanders.
That was a few years ago, mind you. Before the pandemic, before the worst Black Ferns season ever and, most importantly, before the comprehensive review into the team's culture and his tenure as coach.
Fair to say we don't make that joke anymore. When I say 'we' I'm talking about a group of journalists so small a leper could count them on one hand. It's sadly ironic that for all their success, the largest amount of media attention they've got now has been when everything has turned into a shambles, but the old saying 'if it bleeds, it leads' has never been more true this week.
The report into the Black Ferns' environment opened up a hemorrhage the size of which hasn't been seen before in any NZ rugby team of national significance. It showed how the team's success was more or less papering over some serious cracks, ones that wouldn't stay hidden when the wins turned into losses. But the main character in the whole saga has been Moore, the man who now finds himself in the strange and unenviable position of having a detailed report released that's been described as 'damning' on one hand, while keeping his job on the other.
The 62-year-old frustratingly didn't face the media this week, which was a very questionable move by NZ Rugby or indeed Moore himself. Questionable yet not surprising from the governing body it has to be said, who continued an over century-old commitment to hoping things will just blow over. Instead, Moore sent out his own press release - one which said not very much and an awful lot, all at the same time.
But before getting into that, it's important to note how unfortunately out of character this reticence was. In his seven seasons as Black Ferns coach, Moore always had time for the media and cultivated good relationships with the often meagre turnout. He gave the usual cliches in his press conferences, sure, but was happy to go off the record to get a bit of context across.
In short, I found him to be a decent guy who was doing his best to be in charge of an obviously underfunded and under-resourced team that nonetheless kept winning and had a very strong camaraderie amongst its players.
During the Black Ferns' trips to Australia to play the Wallaroos as part of Bledisloe Cup double headers, Moore was certainly more fun to deal with than his All Blacks counterpart Steve Hansen (especially in 2019 when the Wallabies put a record score on the All Blacks).
By the end of that season though, the aforementioned cracks were beginning to show. While all the attention has been on the disastrous 2021 tour, the long layoff between test matches due to the pandemic had meant that consecutive losses to France slipped from people's memories.
Really, the results from last year shouldn't have been that much of a shock - Moore named no less than nine debutants for what was the Black Ferns' 100th test match, as well as the fateful selection of hooker Te Kura Ngata-Aerengamate.
The result was a record loss to England, followed by another one the week later and then two heavy losses to the French again. Selections raised eyebrows, with clearly out of form players retained, but the real question marks came over the kick-heavy game plan. The underdone Black Ferns' set piece was woefully unprepared for the consequences of such actions.
Would they have beaten the far more professional English and French had they played a different style? Probably not, but the damage would have been far less than the insane commitment to a plan that should have been shelved after the first 20 minutes of the first test.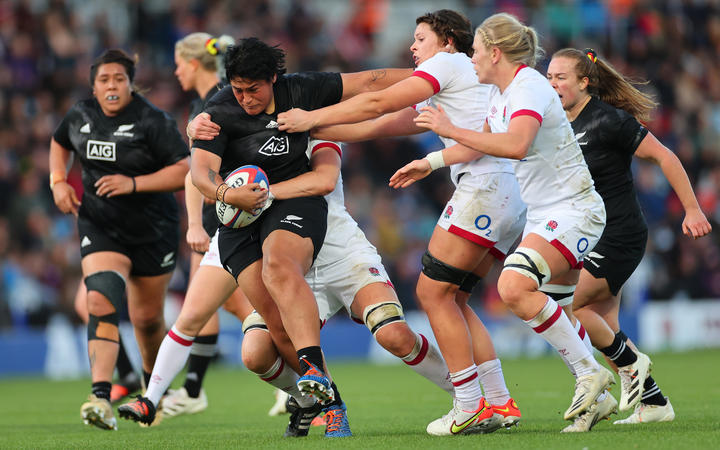 File image: Black Ferns take on England in 2021 Photo: PHOTOSPORT
Some of that has to go on the players, especially those in senior positions that didn't even need to be looking at the increasingly mounting score lines to figure out what they were doing wasn't working. But really, to fly all the way over to Europe and think that sort of rugby was going to compete with their two best teams is laughable in hindsight.
Moore put on a brave face for the Zoom press conference calls back home, attended by myself and one other journalist asking different variations of the same questions after each loss. If he was frustrated and angry he wasn't showing it, although he did let slip a fair degree of exasperation when it came to talking about team discipline, which was shockingly poor throughout the entire tour. Both England and France were repeatedly gifted trips to the Black Ferns' 22 thanks to penalties, which were repeatedly turned into tries.
So, really, there is ample evidence that even without the cultural and environmental review, the debate around Moore staying on as coach of the Black Ferns should be being had anyway. His tenure, which a few years ago looked like an armchair ride, is now tainted with losses on and off the field. The best outcome now is that what has been revealed in the review never happens again, because even with the help of Wayne Smith and Sir Graham Henry, it's unlikely the damage caused by all this will be fixed by the time the World Cup kicks off.
But NZ Rugby don't sack coaches (somewhere Ian Foster is breathing a sigh of relief), which is why Moore hasn't been cast off completely despite the evidence presented by both the team's performance and the review. Perhaps this is the real, overarching theme. Because really while Moore has been singled out, what the review has said about NZ Rugby and their failure to properly support women's rugby is (while unsurprising to anyone who follows it) says even more about their overtly amateur ways of doing things like hiring and firing coaching and management staff.
There's nothing in Glenn Moore's independent press release that resembles an apology, just like there was nothing in any of the official team media spots over the last few years that would give any reason to expect one. Both coach and players put on brave faces and forced smiles around how the Black Ferns were 'building' and 'taking key learnings' etc. Which all sounds pretty hollow now.
But the last line in the release is more than a little presumptuous: No further comment will be provided. Too bad mate - if you're going to keep your job, you're going to have to front the media at some stage. There'll be no prizes for guessing what the line of questioning will be when that happens.
source: https://www.rnz.co.nz/news/sport/465368/less-is-moore-why-the-black-ferns-still-needed-a-change