Pest seaweed found in Hauraki Gulf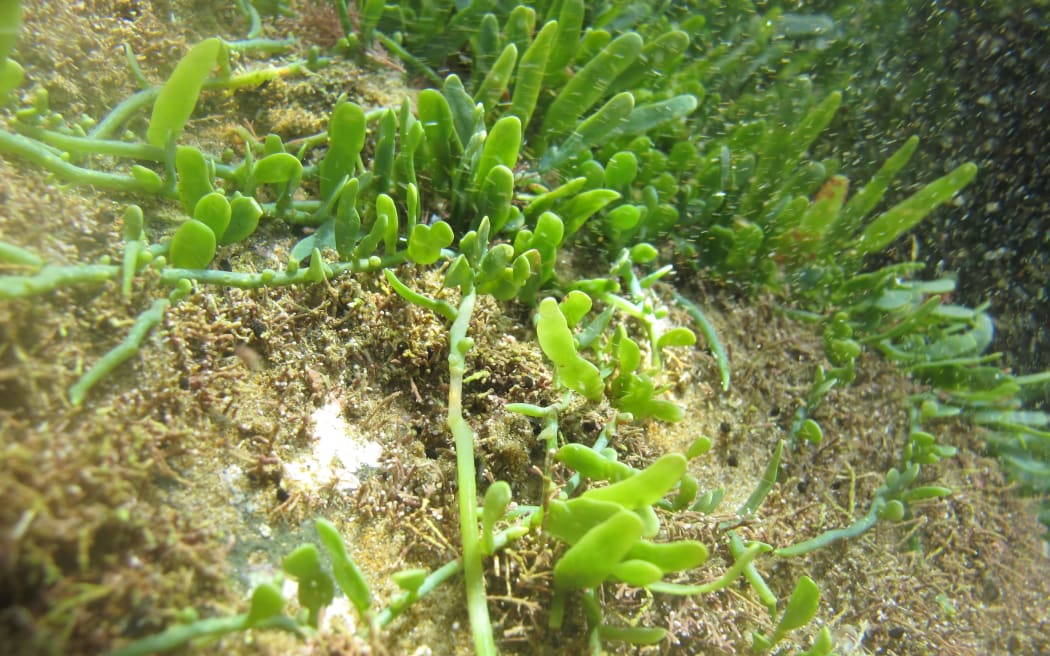 Photo: Supplied by Ministry for Primary Industries
Biosecurity New Zealand plans to take immediate action against a pest seaweed discovered around Kawau Island in the Hauraki Gulf.
It said divers found small patches of exotic caulerpa seaweed in the north channel, northwest of the island.
Biosecurity NZ director of response services John Walsh said it was disappointing but not unexpected, given how easily the seaweed can spread.
Walsh said discussions over the latest find had begun with the Ngāti Manuhiri Settlement Trust and Auckland Council.
"With their agreement, we plan to begin some control work as soon as possible as well as further surveillance in the area," he said.
Biosecurity New Zealand was considering the use of chlorine pellets beneath tarpaulins, a method being tested in the Bay of Islands by Northland Regional Council, or suction dredging to remove the seaweed, Walsh said.
Efforts have been under way for two years to get rid of the plant at Aotea Great Barrier Island, Ahuahu Great Mercury Island and Te Rāwhiti Inlet in the Bay of Islands.
Work had focused on trying to understand the pest and its challenges, trialling treatments, and prevent its spread.
"This includes legal controls on risk activities and widespread campaigns involving local communities, mana whenua, regional councils and others to educate people about caulerpa."
Aside from immediate work in the Kawau Island area, new in-water treatment trials will start in the Bay of Islands, Aotea and Ahuahu from July and will run through to the early summer period.
"People in those areas want caulerpa eliminated. This will be very challenging given the many hectares of caulerpa involved, but these trials are geared towards that."
It was hoped experts from California would visit the country early next month to provide first-hand insights about using suction dredge techniques to remove caulerpa.
Ngāti Manuhiri Settlement Trust's chief executive Nicola MacDonald said the trust was committed to eradicating the pest.
Walsh said exotic caulerpa was challenging to deal with.
"Internationally, caulerpa has not been successfully eradicated from areas the size of the finds in New Zealand, and climate change and warming oceans also present a tough biosecurity challenge for everyone."
He appealed to people to be vigilant by keeping boats and other aquatic equipment clean to reduce the risk of introducing or spreading any exotic seaweeds.
"Check your gear, especially anchors and chains. If you see any seaweed on your equipment, chuck it straight back in the waters it came from."
Anyone who saw exotic caulerpa was asked to note the location, take a photo and report it to Biosecurity New Zealand on 0800 80 99 66 or online at report.mpi.govt.nz
source: https://www.rnz.co.nz/news/national/493403/biosecurity-nz-disappointed-over-caulerpa-seaweed-find-in-hauraki-gulf