Strangers become roommates through program for the formerly incarcerated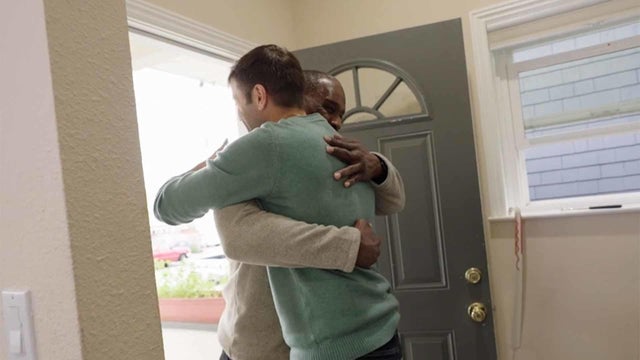 Last year, when Tyler Jenk was looking for a roommate to share his house in Oakland, California, he met man named Askari Johnson who was looking for a fresh start. Johnson had recently been released from San Quentin State Prison after more than 20 years. 
The pair ended up forming a symbiotic relationship as roommates, despite coming from different walks of life. 
While in prison, Johnson had several goals for his new life. One of them was to live independently. His lawyer told him about The Homecoming Project. 
"The Homecoming Project is a program to place formerly incarcerated people into homes that are potentially a better situation than halfway houses," Jenk explained to CBS News. "The program pays their rent and gives them a laptop and a cellphone and guidance to help get started back in society."
The program is run by Impact Justice and funded by Wells Fargo. Impact Justice says formerly incarcerated people are almost 10 times more likely to become homeless than the general population. And without the right support and resources, more than two-thirds of prisoners are rearrested within three years of their release.
"It fit the goals that I set for myself when I was in prison," Johnson said. "I kept in touch with a lot of people that had parole prior to me. So I really lived vicariously through their lives – the ups and downs, the good, the bad, the indifferent. And so, having that experience living through them, it helped me prepare for my success even more," he added.
This wasn't the first time Jenk participated in the program. When his first roommate moved out, he volunteered for the Homecoming Project again and was paired with Johnson.
"When you meet somebody, you get a vibe from them that's good or bad or somewhere in between. And it was just a good vibe," Johnson said about meeting Jenk for the first time. "He had a good sense of humor about the whole situation, the interview went well. It was just natural."
Soon, Johnson learned, the two had things in common.
"He's in construction, I'm in construction. We both like sports. So it was just a match made in heaven, so to speak," Johnson said. 
Another thing they both enjoyed: cooking. "Tyler doesn't know this," Johnson said, laughing, "but he likes to cook and I like to cook. But I'd be kind of embarrassed for other people to test my cooking. So there were a couple of times when I cooked something and I came this close to offering it to him, but I was like, 'No, if he tastes this and doesn't like it, I wonder if he'll tell me the truth or tell me it's good then run to the back room and spit it out.'"
Providing a safe space for Johnson was a simple way for Jenk to give back. 
"It feels good to help, so [I was] happy to help," Jenk said. "Askari didn't need too much help, but being in construction, you know, he would ask questions, he could ping ideas off me, job opportunities, what unions, what I thought I thought about his job opportunities and kind of help out."
Johnson landed a job as a contractor within two months of joining the homecoming project. After six months, he moved out of Jenk's place and was looking for a home of his own. 
"There's an old saying: Preparation meets opportunity equals success," Johnson said. "So, I've been preparing for this seriously the last seven years of my my incarceration."
"So, when I came home, people asked that question all the time, 'What does it feel like?' And I always say it felt like I never left," he continued. "I couldn't have written a better script."
Since it started in August 2022, 100% of The Homecoming Project's more than 80 participants have successfully returned to their community and began rebuilding their lives, the organization said. 
Even though Johnson and Jenk are no longer roommates, the impact of their time together is lasting. 
"Tyler opened up his heart but more importantly, he opened up his home to a stranger," Johnson said. "And I think if more people had that ability just to expand their thinking, just to explore it, I think it would help society enormously."
Caitlin O'Kane is a digital content producer covering trending stories for CBS News and its good news brand, The Uplift.
source: https://www.cbsnews.com/news/homecoming-project-formerly-incarcerated-matched-with-roommates-strangers-safe-places-to-live-impact-justice/