Alleged sexual assault victims of an 80s fashion mogul fight for change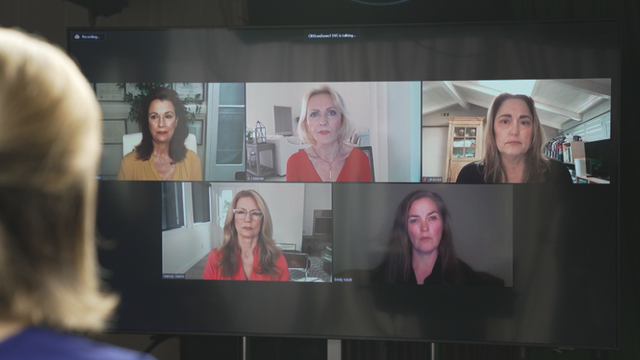 In 2017, the entertainment industry was rocked by the sexual assault allegations against movie producer Harvey Weinstein, which led to the #MeToo movement. Now the fashion industry is facing a similar reckoning.
CBS News has spoken with five former models who all allege that a top modeling agent attacked and assaulted them during the 1980s. They're now lobbying governments to ensure greater protection for women in the industry.
In 1980, Jill Dodd, a 20-year-old from Los Angeles, was working as a model in Paris when she says she was raped by the boss of her model agency.
"I couldn't get away, and he had his hands gripped into my hips, and when he was done, he just went to sleep, and I was just laying there crying," she said. "I walked home just in absolute shock, just comatose, just catatonic."
Wendy Walsh, from Toronto, says the same agent raped her when she was just 18.
"He was my boss," she told CBS News. "I trusted him, because he told my mother he would take good care of me."
EJ Moran, from Chicago, says the same man raped her the following year, when she was 22.
"He threw me on the bed, he covered my face with his hand, he started calling me names. He turned into a monster," she recalled.
All of the women CBS News spoke with are from North America. All of them worked as models in Europe in the 1980s, and all of them say they were either raped or sexually assaulted by Gerald Marie — a man who spent decades at the pinnacle of Europe's modeling industry.
In total, 16 women have now given accounts to French authorities accusing Marie of rape or sexual assault, but none of them went to the police at the time. Because of the statute of limitations in France, which sets a deadline for prosecuting cases, Marie cannot be charged.
"I thought about going to the police, but I couldn't speak French," Moran told CBS News. "I didn't think I had a chance. I thought if I went to the police, they wouldn't believe me."
Marie has long denied the accusations against him. Men in positions like his "are easily attacked," he complained on a French chat show in 1999, after some allegations came to light.
In a statement to CBS News, Marie's lawyer said he "categorically denies the accusations" and claims the women are trying to "frame" him as a "scapegoat…  for an era that is now over."
"I think partly, it was the culture," said Laurie Marsden, who claims Marie tried to rape her after she went to work in Paris as a 19-year-old model. "It was the culture in France, but it was also the culture of the industry itself. I often ask myself that why were young women expendable? It seems like that was the way that we were looked at."
Sara Ziff, who runs a non-profit advocacy group called the Model Alliance, told CBS News that era is not over, however, and not much has changed since the 1980s.
"There hasn't been meaningful change to really empower the models, and make sure that they're safe from this kind of abuse," she said. "This kind of abuse is likely to happen because the industry is largely unregulated."
"Pretty much every day the Model Alliance hears from working and aspiring models about a range of issues, including issues of sexual assault and even trafficking schemes," Ziff said, adding that some of the women are too frightened to go to the authorities.
She said in an industry in which people often start working as young teenagers, there's "an imbalanced power situation from the beginning, so of course it's not surprising that people are then scared to speak out."
Some of Gerald Marie's accusers are fighting for change. They've lobbied the French Senate and the European Parliament to change the statute of limitations and do more to protect women.
Emily Mott is one of the former models pushing for those changes, and she said it hasn't been an easy fight.
"One of the French lawmakers, the senators we've been working with, said she didn't want to change the statute of limitations in France because that would be like hanging a Damocles Sword over the head of these men, and that wasn't fair," she told CBS News. "We are saying enough is enough."
Walsh, the former model from Canada, said to her, it seems the industry has become even more dangerous "because it hasn't unionized, it hasn't become organized — there are no laws around it. The agents traditionally haven't protected these young girls, now they're on their own on Instagram and they're more open to predators." 
"If you work in the fashion industry you can be flown alone on a private jet to somebody's island and work in the hot sun all day long, have alcohol used as weapon on you in the evening, and get raped at the end of your day. Where are the guidelines?" asked Walsh. "Where are the laws?"
Marsden agreed that little has changed, "and in fact, in some respects, it could potentially be worse."
Ziff, of the Model Alliance, stressed that the fight "is not about any one bad actor. It's about a system of abuse, and until we have meaningful change - we have, like, basic legal rights on the job, I don't think that dynamic is really going to shift in a meaningful way."
The French lawyer who represents the 16 accusers told CBS News there were more women who claim to have been assaulted by Marie, but who haven't yet come forward to the authorities.
source: https://www.cbsnews.com/news/fashion-models-rape-sexual-assault-gerald-marie-fight-for-legal-change/