Madison Square Garden ban on lawyer foes may be illegal, AG says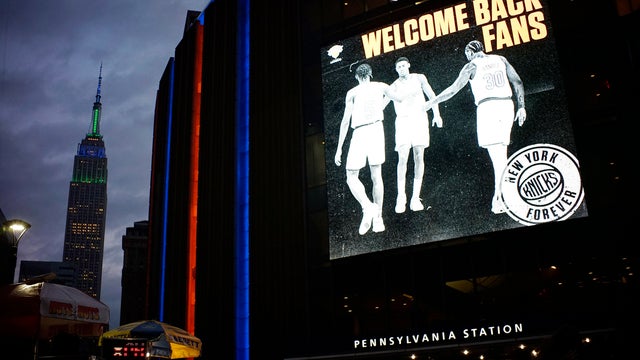 The owner of New York's famed Madison Square Garden and Radio City Music Hall has been using face-recognition technology to keep some lawyers out of its venues. Now, New York's top prosecutor is warning MSG Entertainment that its policy may violate the law, according to a letter from the state attorney general's office.
The Jan. 25 letter notes that the ban on individuals entering the buildings, as well as MSG's use of facial recognition technology to enforce it, may violate civil rights laws. Banning lawyers who represent clients in litigation against the company could discourage attorneys from taking on cases, including sexual harassment or job discrimination claims against MSG.
"MSG Entertainment cannot fight their legal battles in their own arenas," Attorney General Letitia James, a Democrat, said in a statement. "Madison Square Garden and Radio City Music Hall are world-renowned venues and should treat all patrons who purchased tickets with fairness and respect."
MSG operates Madison Square Garden, Radio City Music Hall and the Beacon Theatre on Manhattan's Upper West Side. The venue operator has a policy of barring any lawyer who works for a firm involved in litigation with MSG from attending sports games, comedy shows and other events. That policy covers some 90 law firms, potentially affecting "thousands of lawyers," according to James.
The lawyer ban first surfaced in October, when Larry Hutcher, a 50-year season tickets holder for the New York Knicks, found himself blocked from entering the NBA team's home arena at Madison Square Garden and told that his seats were revoked. Hutcher later sued MSG over the policy, claiming he was "summarily discarded by MSG without warning solely because he fulfilled his ethical duties to his clients."
Since Hutcher's suit, other lawyers have come forward with stories about being blocked from concerts, sporting events and shows including the Rockettes' Christmas Spectacular.
MSG Entertainment denies that its policy was discriminatory.
The policy "does not unlawfully prohibit anyone from entering our venues and it is not our intent to dissuade attorneys from representing plaintiffs in litigation against us. We are merely excluding a small percentage of lawyers only during active litigation," the company said in a statement. 
The statement also said that the partial lawyer ban "has never applied to attorneys representing plaintiffs who allege sexual harassment or employment discrimination."
MSG Entertainment CEO James Dolan defended the ban on Thursday in an interview with Good Day New York.
"If somebody sues you, that's confrontational," he said. "If you're being sued, you don't have to welcome the person into your home." 
However, civil liberties groups warn that these bans, based on facial-recognition technology with known flaws, would have a chilling effect on speech and Americans' access to public spaces.
"Who will actually go to court against the country's largest companies if they can retaliate this way?" Albert Fox Cahn, executive director of the Surveillance Technology Oversight Project, said in a statement. "If New Yorkers can be banned from a Rangers game, they can be banned from the grocery store or the pharmacy. These technologies are ripe for abuse, and it's long past time that the city and state ban them."
The New York legislature this week introduced a bill that would prevent sports venues from barring entry to people holding a valid ticket.
The Associated Press contributed reporting.
source: https://www.cbsnews.com/news/madison-square-garden-face-recognition-illegal-new-york-attorney-general-letitia-james/