Medicinal cannabis just the beginning for Rua Bioscience
East Coast-based medicinal cannabis firm Rua Bioscience says it has plenty of other products in the works, after launching its first medicine in New Zealand.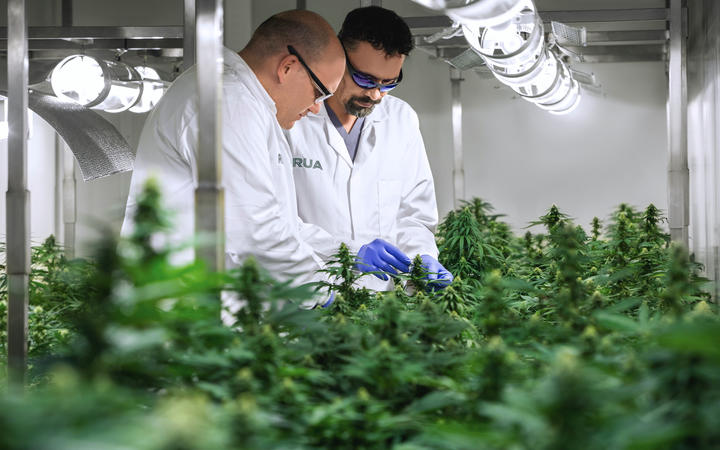 Rua Bioscience co-founder Manu Caddie inspects plants with head grower Brandon Veevers. Photo: Josie McClutchie
Sales from the medicinal cannabis product, which is available via prescription, will be the first revenue for the business since it listed on the stock market in 2020.
Rua Bioscience is one of two firms manufacturing cannabis products that have met quality standards set by the Medicinal Cannabis Agency.
The company was prohibited from revealing what the product was under medical law and was coy about how much revenue it expects to generate from it but said that it could be used to treat people with acute pain, anxiety or juvenile epilepsy.
Rua Bioscience chief executive Rob Mitchell said while it was an important milestone for the company, it was just the beginning.
"We have a number of other products lined-up [that] we hope to have in the market by the end of this year. I am talking local as well as export markets."
However, Mitchell said he could not reveal what those products were or what export markets it was eyeing up outside of Germany, which it had mentioned previously.
Rua Bioscience co-founder Panapa Ehau with cannabinoid researchers at a New Zealand university. Photo: Supplied.
Rua Bioscience had a strong commitment to supporting its founding community in Te Tairāwhiti.
The company acknowledged that cost remains a barrier for those looking to add medicinal cannabis as possible treatment options.
It was responding by launching what it said was the country's first "compassionate access programme", which would mean it would make its medicine free to a limited group of people in the East Coast region, depending on their clinical needs and personal circumstances.
"We view this as a meaningful and commercially sustainable way to help some of those most in need access the medicine," Rua chief financial officer Dr Andi Grant said in a statement to the stock exchange.
The medicine would be manufactured at Rua's Gisborne-based facility and would be distributed by CDC Pharmaceuticals.
source: https://www.rnz.co.nz/news/business/465528/medicinal-cannabis-just-the-beginning-for-rua-bioscience