Who is Fran Drescher? What to know about the SAG-AFTRA president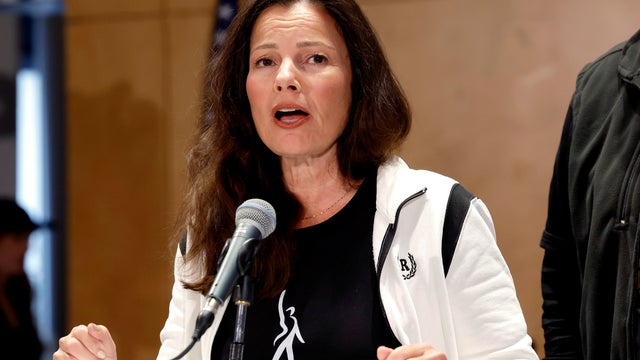 When the leaders of Hollywood's actors union announced a strike this week, the most fiery words spoken came from SAG-AFTRA President Fran Drescher, who drew thunderous applause when she berated movie studios executives for what she called unreasonable and insulting demands.
She decried the studios for "plead[ing] poverty, that they're losing money left and right, when giving hundreds of millions of dollars to their CEOs."
"It is disgusting. Shame on them. They stand on the wrong side of history at this very moment, " Drescher, 65, said.
Drescher's cutting words were backed by decades of Hollywood experience. She got her start in movies in the 1970s and has worked as an actor, writer and producer on dozens of series. Here's what to know about the 65-year old actor and labor leader.
Drescher was born in Queens, New York, in 1957, the second child of Morty and Sylvia Drescher, working-class Jewish parents who traced their lineage to Eastern Europe.
Drescher attended Queens' Hillcrest High School, where one of her classmates was comedian and actor Ray Romano (best known for the sitcom, "Everybody Loves Raymond.") She graduated in 1975, having already met the man who would later become her husband,  future actor, writer and producer Peter Marc Jacobson.
The couple married in 1978 and went on to collaborate on many creative projects. They divorced in 1999.
In the 1980s, Drescher had small roles in films including "Saturday Night Fever" and the mockumentary "This is Spinal Tap," in which she played a publicist for a heavy metal band. But her best-known role was playing the vivacious title character in the 1990s sitcom "The Nanny," which she co-created with Jacobson.
In The Nanny, Drescher played Fran Fine, a working-class girl "with a face out of Vogue and a voice out of Queens" who stumbles into a job as a live-in nanny to a wealthy English widower's three kids. The show debuted on CBS in 1993 and ran for six seasons, earning Drescher two Emmy and two Golden Globe nominations. 
The show pitted Fran's free-wheeling, spirited style against the uptight manners of her employers, with a dose of sentimentality thrown in. In one memorable episode and case of art imitating life, Fran refused to cross a picket line at a fancy dinner she was attending with her employer.
The show "balanced edginess with heart," the New York Times wrote in a 1994 review that also mentioned Drescher's "hard work and the thickest Queens accent imaginable."
After Drescher and Jacobson divorced, they developed the TV Land series "Happily Divorced," based on their marriage and friendship. 
Drescher has also appeared on the series "Living with Fran" and supplied the voice of Eunice in the "Hotel Transylvania" animated films.
She is the author of two memoirs, "Enter Whining" and "Cancer Schmancer," an account of her diagnosis and recovery from uterine cancer.
Drescher became increasingly vocal online around 2017, decrying big business, oil drilling, pharmaceutical companies and the "ruling class" on Twitter. She described herself as "anti-capitalist" in a 2017 interview with Vulture, saying, "Once you really realize the global systemic problem is actually big-business greed, then you know really what you need to do."
That activism culminated with Drescher's winning what the BBC described as a "vicious election" against actor Matthew Modine in 2021 to become SAG's president. 
Drescher campaigned on ending what she called "dysfunctional division" within the union, and since taking the helm at SAG-AFTRA she has worked to smooth over those rifts, the BBC reported. 
She has been a leading voice in support of the Writers Guild of America, whose 11,000 members went on strike in May, and has shown up on multiple picket lines. On Thursday, Drescher drew parallels between the actors' concerns and changing conditions in other industries.
"What's happening to us is happening across all fields of labor by means of when employers make Wall Street and greed their priority, and they forget about the essential contributors that make the machine run," Drescher said.
She directed her closing words directly at studio bosses. "Share the wealth, because you cannot exist without us," she said.
Some CBS News staff are SAG-AFTRA members. But they work under a different contract than the actors and are not affected by the strike.
source: https://www.cbsnews.com/news/fran-drescher-sag-aftra-president-the-nanny-actors-strike/