Jabeur sets up Wimbledon final against Vondrousova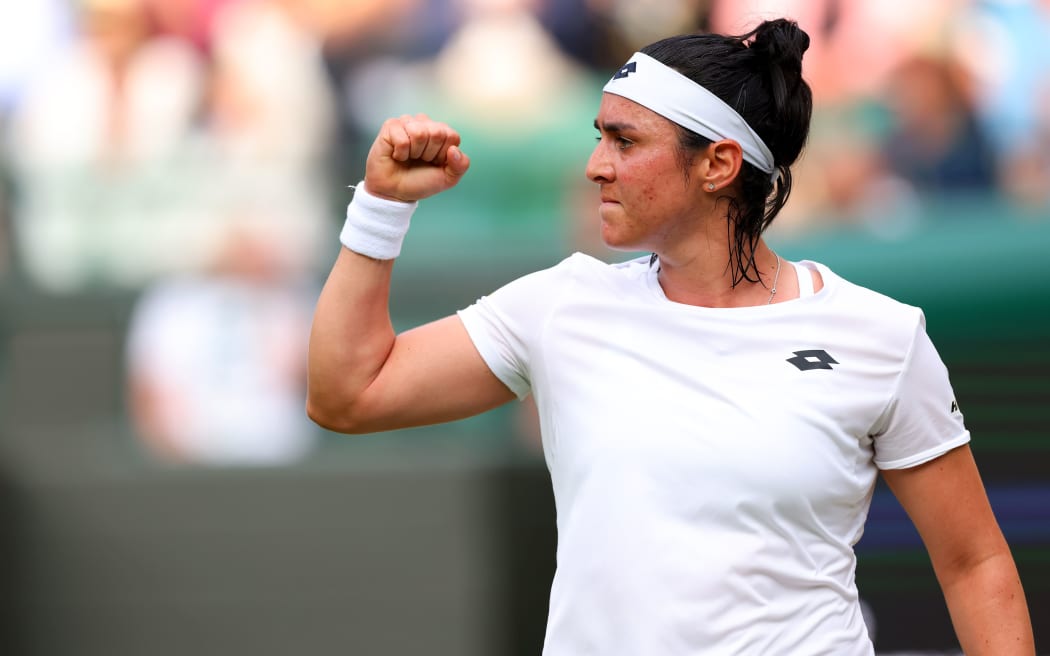 Ons Jabeur showed that it is sometimes better to float like a butterfly than sting like a bee as her wily artistry overcame the brutal hitting of Aryna Sabalenka to reach her second Wimbledon final with a 6-7(5) 6-4 6-3 victory on Friday.
Jabeur, who was beaten in last year's final, looked destined to suffer more heartbreak on Centre Court when she lost the opening set, but her delicate strokeplay and clever angles eventually subdued the relentless power of Belarusian Sabalenka.
The victory set up a final between the Tunisian sixth seed and unseeded Czech Marketa Vondrousova, the 42nd-ranked former French Open finalist who ended the hopes of Ukrainian Elina Svitolina earlier on Friday.
Jabeur, who also finished runner-up at last year's U.S. Open, passed up four match points, but finally got over the line with an ace, calmly raising her arms to the sky in celebration before reflecting on some new-found mental toughness.
"I'm very proud of myself because maybe the old me would have lost the match today and went back home already, but I'm glad that I kept digging very deep and finding the strength," she said.
Jabeur, who is bidding to become the first African woman as well as first Arab to win a major, has shown real steel to come through this year, becoming the first woman to defeat three top-10 opponents at Wimbledon since Serena Williams, perhaps one of the game's toughest competitors, in 2012.
Sabalenka, who missed last year's tournament due to Wimbledon's ban on Russian and Belarusian players, was as tough an opponent as she could have faced.
The second seed possessed an envious recent Grand Slam record having won the Australian Open in January and reached the last four at Roland Garros while the world number one spot was hers had she beaten Jabeur.
ROARING BACK
The opening set was tight with both players seeing break points slip through their fingers before it moved into a tiebreak.
Jabeur claimed the box seat when she guided a stunning forehand down the line for a 4-2 lead but Sabalenka came roaring back, winning the next four points to set up two set points.
She let the first one go begging before Jabeur sent a return long to hand the opening set to the Belarusian, only the third that Jabeur had lost in the tournament so far.
By this point Sabalenka had started grunting loudly on serve, with some of her roars lasting so long they extended beyond her opponent's return and almost joined up with her next loud exhalation.
The second set was far more of a roller-coaster, with Sabalenka earning the first break of the match in the fifth game to go 3-2 up.
With the Belarusian's serve proving rock solid up to that point, the situation was looking bleak for Jabeur, but momentum swung quickly in her favour.
A double fault from Sabalenka gave Jabeur a break point before her opponent netted a forehand for 4-4.
The pressure was right back on the Belarusian in her next service game with Jabeur setting up a set point which she gobbled up with a backhand return down the line to level the contest.
Sabalenka saved two break points in the sixth game of the third set with two huge forehand winners that flew of her racket like bullets but when Jabeur crafted a third she had no answer, sending a backhand long to put the Tunisian within sight of the finish line.
After holding serve, Jabeur earned her first two match points on the Sabalenka serve, but the world number two again gave a demonstration of her power, saving the first with an ace and the second when Jabeur's return landed long.
That only delayed the celebrations, however, as Jabeur eased to 40-0 on her serve, again spurning the first two match points before sealing a place in the final with an ace.
VONDROUSOVA BEATS SVITOLINA
Vondrousova showed there was no room for any gushing sentiment as she ended the remarkable run of new mum Svitolina with a 6-3 6-3 victory in the earlier semi-final.
In the run-up to a first All England Club women's semi-final featuring two unseeded players, Vondrousova said the Ukrainian was "incredible", "amazing", "a fighter" and "a super woman" for reaching the last four of a Grand Slam nine months after giving birth to daughter Skai.
But that did not stop Vondrousova from shattering Svitolina's dreams and she now stands one win from completing her own phenomenal comeback story after two wrist surgeries following her runner-up finish at the French Open in 2019.
"I cannot believe it. I am very happy that I made the final. Elina is such a fighter and a great person. It was a tough match. I am very happy," said the 42nd-ranked Vondrousova.
She will be bidding to become the first unseeded woman to lift the Venus Rosewater Dish when she faces either Australian Open champion Aryna Sabalenka or Tunisian sixth seed Ons Jabeur in Saturday's final.
"I didn't play for six months last year and you never know if you can be at that level again. I'm just so grateful to be here and to be healthy and play tennis again," added the 24-year-old, who had fallen so far off the tennis radar that she has been playing at this year's championships without a clothing sponsor.
Svitolina had become a firm crowd favourite at Wimbledon after she produced a fearless brand of tennis to send four Grand Slam champions spinning out of this year's tournament.
But on Thursday, no matter how much the Centre Court crowd tried to lift the Ukrainian wildcard with booming shouts of "We love you Elina", Svitolina appeared to be weighed down with the expectation of giving her war-ravaged country "a little bit of happiness" and froze on the biggest stage in tennis.
A forehand passing shot winner gave Vondrousova the break for a 3-2 lead in the opening set and although she surrendered her own serve in the next game with some sloppy unforced errors, including a double fault, the Czech was back in front again in the very next game.
From them on, Svitolina was left shrieking, screeching and squealing in exasperation over and over again as Vondrousova frustrated the Ukrainian with her swinging left-handed serve to win seven games on the trot.
Just when it seemed that Vondrousova would whitewash her opponent in the second set as the Czech held points to go 5-0 up, Svitolina came out swinging and broke not once but twice.
But that respite was fleeting as Vondrousova blanked out all the deafening cries of support being thrown Svitolina's way to hold tight and sealed her place in the final when the Ukrainian blocked a service return long on match point.
"Right now I'm just really upset that I couldn't go further to play in the final ... I'm not very happy the way that I dealt with the situation," a tearful Svitolina told reporters.
"I hope I can build on this. But right now I'm just really disappointed with the performance that I showed today. I'm upset that I'm ... not taking that trophy (home)."
- Reuters
source: https://www.rnz.co.nz/news/sport/493696/jabeur-sets-up-wimbledon-final-against-vondrousova