Turbulence during Allegiant Air flight hospitalizes 4 in Florida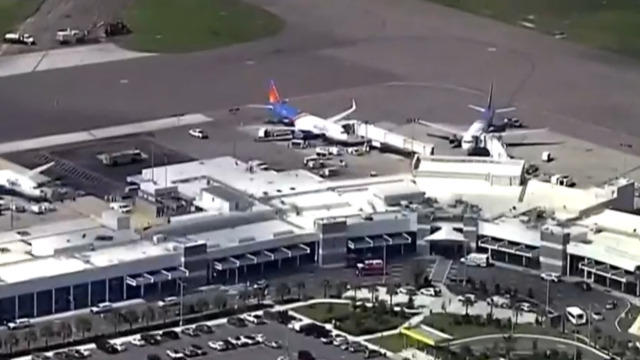 Two passengers and two crewmembers aboard an Allegiant Air flight were hospitalized after the plane experienced "severe turbulence" while landing Wednesday afternoon in Clearwater, Florida, the airline said.
Allegiant Air Flight 227 from Asheville, North Carolina, was approaching St. Pete–Clearwater International Airport in Clearwater, Florida, at about 3:45 p.m. ET when it encountered turbulence, the Federal Aviation Administration said in a statement provided to CBS News.
The plane "landed normally and taxied to the gate under its own power," Allegiant said.
Four people were transported to a local hospital for injuries, the airline said. It did not provide any further information on their conditions or specific injuries.
Passenger Lisa Spriggs told CBS affiliate WTSP-TV that a flight attendant who was standing near her when the plane hit "major turbulence" was thrown into the air, comparing it to a scene from the movie "The Matrix."
"Literally, she flew up in the air, like 'Matrix' is the only way that I can think to describe it, was there for half-a-second, and then landed straight down, broke her ankle," Spriggs said.
Allegiant said it would be investigating the incident "in coordination" with the National Transportation Safety Board and the FAA. However, the NTSB told CBS News it was "monitoring the situation" and had not yet launched an investigation. 
It was the latest in a string of dangerous turbulence-related incidents over the past year, a trend that experts say could be worsening because of climate change.  
In March, the NTSB reported that it was investigating the death of a passenger aboard a business jet that made an emergency landing in Connecticut after encountering turbulence.
Last December, three-dozen people were hurt when a Hawaiian Airlines flight from Phoenix to Honolulu experienced turbulence. 
source: https://www.cbsnews.com/news/turbulence-allegiant-air-flight-hospitalizes-4-clearwater-florida/