Dad who survived 9/11 drowns while helping child in Lake Michigan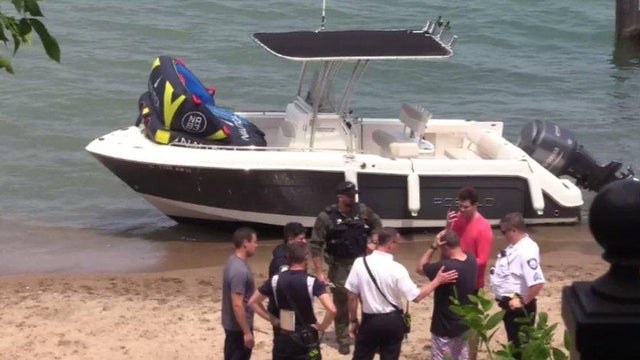 A Chicago-area man who survived the 9/11 attacks in New York City died after he jumped from a boat into Lake Michigan to help at least one child who fell off a raft, his family and officials said.
The man, who was identified by the Cook County Medical Examiner's Office as Luke Laidley, 43, was taken Tuesday afternoon to an Evanston hospital in serious condition. Fire officials said the Winnetka man later died.
An autopsy was scheduled for Wednesday, said medical examiner's office spokesperson Natalia Derevyanny.
Winnetka Police Chief Brian O'Connell said the city's police and fire departments were called to an area near the city's Elder Beach about 1:20 p.m., Tuesday for a water rescue.
Witnesses said Laidley, who was boating with others on the lakefront, jumped into the lake to help at least one child who had fallen off a raft being pulled by the boat.
"Everybody's sort of gathering on the beach, and someone dialed 911, because the kids were yelling that something was down," witness Amy McCarter told CBS Chicago.
Man dies after jumping into lake in Winnetka to help child who fell into water while tubing https://t.co/pjt6Ns4voE pic.twitter.com/pwbmUPT7WZ
But Laidley ended up going underwater before others pulled him back onto the boat and beginning CPR as the boat returned to the shore.
Firefighters and paramedics then worked on Laidley before taking him to the hospital where he died.
In 2001, after graduating from Boston College, Laidley took a job at Morgan Stanley in New York, his family told WLS-TV.
"His second day on the job was September 11, 2001," his family wrote in a statement to the station. "As a survivor of the 61th floor of Tower 2, he later wrote, 'I encourage all of us to count our blessings each and every day. Give of yourself and expect nothing in return. And become part of something that is greater than yourself.'"
The family told WLS-TV that Laidley leaves behind a wife and three young children.
source: https://www.cbsnews.com/news/luke-laidley-dies-911-survivor-drowns-lake-michigan-helping-child/