3 ways to pay for your summer home projects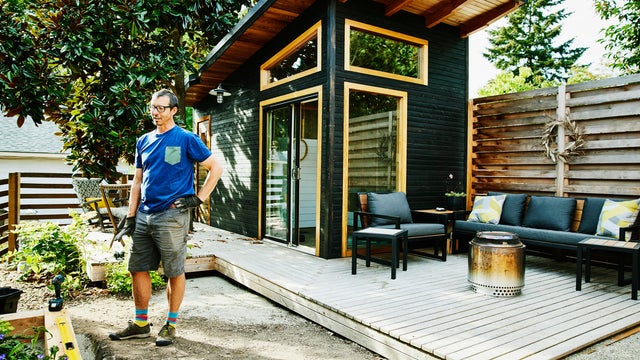 Homeowners looking to take advantage of longer days and better weather may find summer the ideal time to get started on the home improvement project, repair or renovation they planned to do this year. Plus, choosing the right renovation is a great way to boost your home's value.
But with still-inflated prices and pressure in the housing market, it's important to properly secure the funds you need to complete your home improvements. In fact, a 2023 survey from Houzz found that homeowners with projects planned this year anticipate spending a median of $15,000, or $85,000 for higher-budget projects. 
If you've been putting off the home project you planned this summer, it's not too late to get started. Plus, now is a great time for homeowners whose home prices are still high to access extra funding via the equity they've built in their homes. 
Discover your home equity options and the rates you can qualify for here.
If you're planning to get started on a renovation or make smaller home improvements this summer, here are three ways to consider funding the project:
Home equity loans allow you to take out a lump sum loan based on the amount of equity you've built up in your home. This type of loan carries a fixed interest rate and you'll pay it over over a fixed term ranging from five to 30 years. 
Because they're secured by the value of your home, home equity loans may offer lower interest rates than other borrowing options today. But that also makes it imperative to keep up with your payments, so you don't fall behind and risk losing your house.
A home equity loan can be a good option for your summer home improvement project if you know exactly what you want to do and how much it may cost. And while you can spend your home equity loan on anything, completing a home project is actually one of the best uses. That's because the interest you accrue is tax-deductible when you use the money toward eligible home improvements outlined by the IRS. 
Learn more about the best home equity loan rates available right now.
Like a home equity loan, a home equity line of credit (HELOC) is a way to borrow from the equity you've built in your home. After approval, you'll be granted access to a credit line based on your home equity, which you can draw from over a certain time period. Once that period ends, you'll pay back only the amount you actually borrowed at a variable interest rate.
A HELOC may be the best option for your summer project if you're not exactly sure how much the total cost will be, since you can borrow what you need at different points. It can also be a good way to maintain the option of tapping into more funds later on, or even next year. The draw period on HELOCs can last up to 10 years. Like home equity loans, you may also be eligible to deduct your interest payments from your taxes if you use a HELOC to make eligible home improvements.
Compare HELOC rates you can qualify for here.
An alternative to tapping into your home equity with a second loan or line of credit is a cash-out refinance. With this loan type, you can refinance your existing mortgage loan to a new one worth more than you actually owe, then take the difference in cash. 
Like with home equity loans, this may be a good option if you know the relative cost of your renovation or project and want the funds in one lump sum. Cash-out refinancing can also be good for home improvements specifically, since using your lump sum payment for this purpose may qualify you to deduct interest payments from your taxes. 
However, there are a few things you should consider before opting for a cash-out refinance. For one, check whether the refinanced rate you qualify for is less than your current mortgage rate. Even if you could use the cash today, opting for a higher interest rate could greatly increase the amount you'll pay over time. You'll also want to think about how the refinanced loan may change your overall loan term, monthly payments and how much you owe in closing costs. 
Considering a cash-out refinance? Start exploring your refinancing options to learn more.
Homeowners who want to get started on a home improvement project this summer have a number of options when it comes to getting the funding. Especially if you live in an area where home values are still high, you can make the most of the current market by tapping into your home equity today. Depending on the specific project and how you'd like your money disbursed, a home equity loan or HELOC could help you save, with the bonus of potentially deducting your interest from your annual tax bill. Otherwise, a cash-out refinance could be an option to consider if you think you could get a better interest rate than you currently pay on your mortgage.
Learn more about home equity options for your home improvement project or renovation here now!
source: https://www.cbsnews.com/news/ways-to-pay-for-your-summer-home-projects/